18 December 2009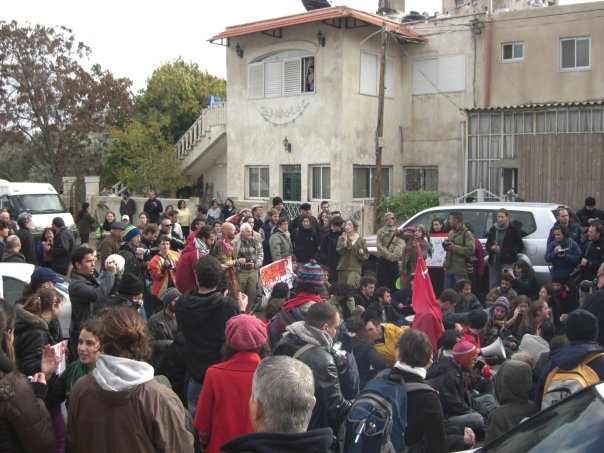 Twenty-six Israeli protesters and one international solidarity activist were arrested and three Palestinian children wounded during a nonviolent demonstration against the Israeli settlement project in the occupied East Jerusalem neighborhood of Sheikh Jarrah this Friday.
Over 300 people, Palestinians, internationals and Israelis, attended the weekly vigil. Last week 24 people were arrested during a similar protest that was also violently dispersed by Israeli Occupation Forces.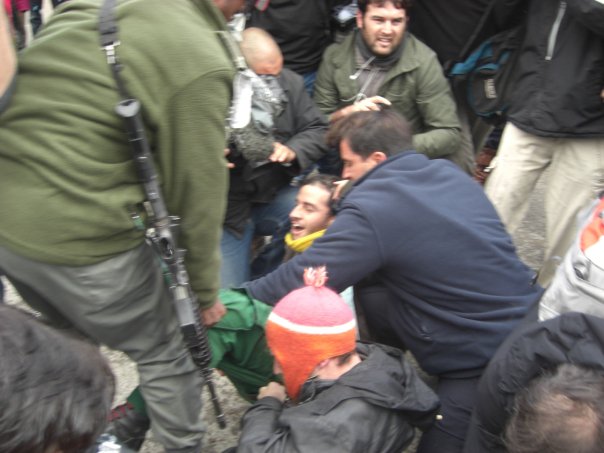 The apartheid state security forces blocked the roads leading into Sheikh Jarrah in an attempt to prevent protesters from entering the Palestinian neighborhood, but the demonstrators managed to reach the occupied al-Kurd house by splitting into smaller marches and descending on Sheikh Jarrah from the side streets, back alleyways, and rugged landscape behind the neighborhood.
When the march reformed, the demonstrators stood face-to-face against the police. The protesters sat-down, linked arms, and sang anti-occupation chants in Arabic, Hebrew, and English. Police then moved in and began arresting the linked activists one by one. Most of the protesters suffered minor bumps and bruises while being dislodged from the human chain by the police snatch-squads.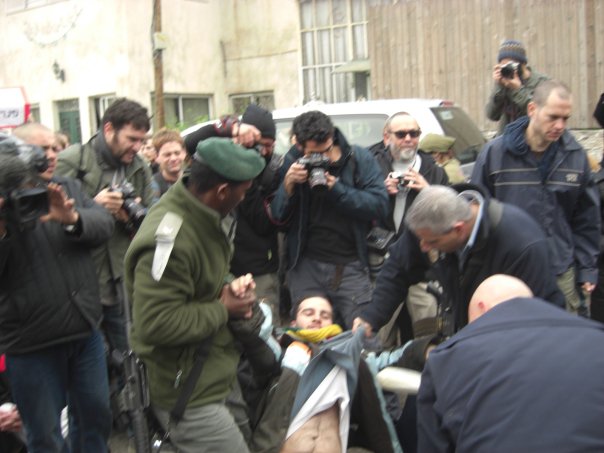 One of the activists who joined the demonstration stated: "We are here today and every Friday to demand an end to the occupation of Sheikh Jarrah by the Israeli government and Jewish settlers. We call on the Israeli government to dismantle all settlements in the occupied West Bank and East Jerusalem. We are not using any violence. The only violence here today is the violence the police are using on us."
Towards the end of the protest a group of nearly 100 settlers arrived to the Sheikh Jarrah neighborhood and began throwing rocks at the house of a nearby Palestinian family. One 12 year old Palestinian boy was also chased into the street and beaten by settlers. Three Palestinian children were taken to a nearby hospital for treatment.