27 November 2009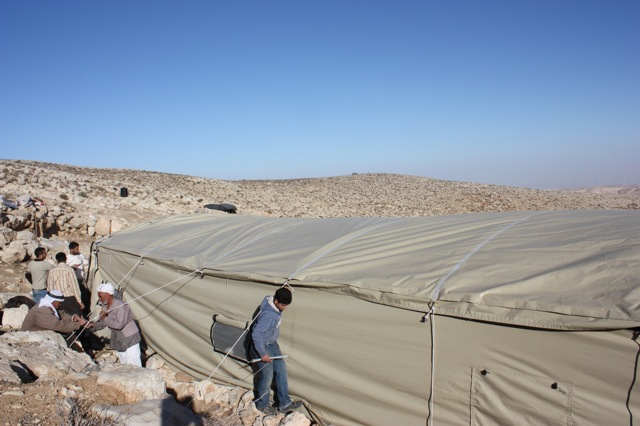 For the last 3 weeks, ISM activists have stayed with a community of cave-dwellers in Bir el-Eid, south east of Hebron, on the very border to the Negev desert. The villagers, who live off raising sheep and goats as well as seasonal farming, moved in recently, after a court order gave them permission to do so following 10 years in exile. In 1999, the Israeli army forcibly evicted 700 people living in the area, destroying stone houses and blowing up caves. Until now, attempts by the villagers to reclaim their land have been quashed by violence perpetrated by settlers from the three nearby settlements of Mezadot Yehuda, Susiya and Mitzpe Yair, all of which are illegal under international law.
The response from human rights groups has been tremendous. Tayush makes frequent expeditions to the village, the International Red Cross has supplied the villagers with tents, mattresses and cookware, among other things, and Breaking the Silence brought 30 people on a tour of the area to raise awareness of the plight of the people living there. Already, several tents have been raised and sheep pens restored, and 3 families are now living in Bir el-Eid, hopefully only the first of many.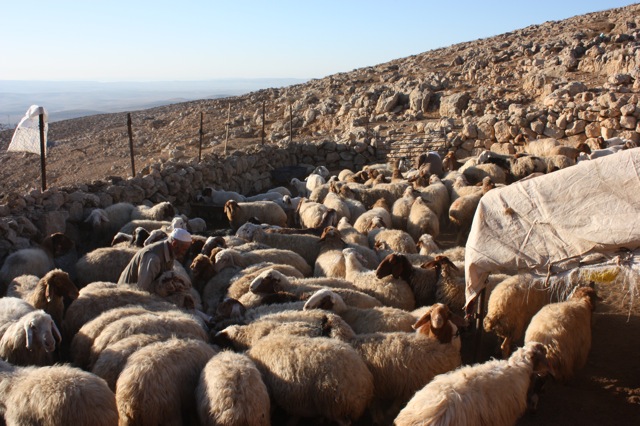 The success so far, however, has been met by harassment from the army. They continue to intimidate the Palestinians when they use the road that they themselves had built at great expense, instead directing them to use a dirt track that has barely been prepared at all. On Wednesday, 25 November, the village ran out of drinking water due to a miscommunication, and when Tayush attempted to bring water the next day, soldiers delayed the transport for several hours. The local DCO (District Coordinating Office) chief visited the village on the that day, reprimanding the Palestinians for using the road, saying that it bothered the local settlers. When the Palestinians referred to the court order saying that they had the right to use the road, the DCO officer said simply "I don't care about the courts, I'm military".
It is this blatant arrogance toward not only International, but even Israeli, law, that composes one of the main problem for Palestinians trying to live their lives in the occupied West Bank. The army takes its orders from fanatical settlers living on stolen land, not from the courts. But the villagers of Bir el-Eid are ready to face this injustice and repression, insisting to live their lives on the land that is legally theirs.