Women from the Nablus Prisoners' Association took over the main circle in the centre of the city on Saturday 3rd January to protest the Israeli slaughter of Palestinians in Gaza.
Carrying mock-corpses of killed Palestinian babies, the women chanted their support for the victims of the continuing Israeli attacks, calling "With soul and blood we stand with Gaza".
The women called for unity in supporting Gaza: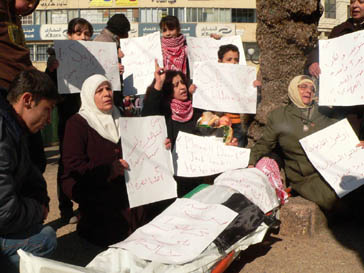 "This is my Hamas son.
This is my PFLP son.
This is my Fatah son,
This is my son whose blood is Palestinian!"
Placards were waved as the women marched around the circle, highlighting the complicity of Arab states as they fail to manifestly support Palestine throughout the occupation and the attacks on Gaza:
"Arab leaders: Are you not embarrassed?"
Resistance to the ongoing massacre was called for as the women called for a popular intifada.
This is the third demonstration in Nablus in as many days. More than 2000 residents of Nablus took to the streets on Friday, a day which saw mass protests across the West Bank, to protest against the ongoing attacks on Gaza.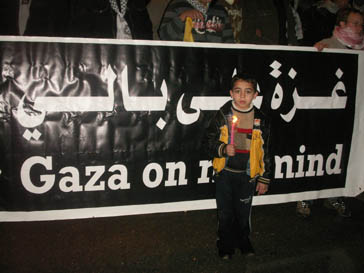 Candlelight demonstrations were also held on the night of Thursday 1st December, where Israeli flags and a coffin symbolising the Arab states were burnt.