By Sharon in Gaza
To see Sharon's blog please click here
People have asked me if I am frightened. What I am frightened by is the enormity of these events, at how few international eyes there are here to witness them, and that it is hard to imagine how it will end. In the last handful of days, I have given about 30 interviews by phone, and a couple on camera, to a world outside which my friends are telling me is slowly waking up to this disaster. Yet about 400 foreigners took Israel up on its offer of an exit route through Erez border today, and we wonder what they have planned next that they don't want outsiders here to witness.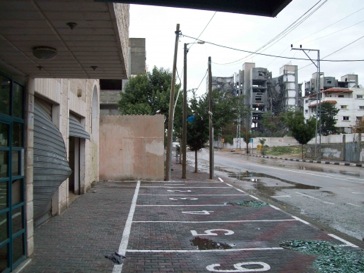 I am so glad to be here, to be a small sign to Gaza folks that people do care about them. And my fabulous friends are sending supportive messages, not only to me but to Palestinians, who cluster round to look at them, and translate them to each other, sometimes in tones of astonishment; and to smile at the footage of demonstrations and vigils. I told a local friend today that Israelis will be demonstrating against their government's actions on Saturday, and she could hardly comprehend it. (See a Jerusalem demo that's happened already here.) I look forward to sharing the pictures of this and all the other rallies about to happen, with her and everyone.
Underneath the rockets is a strange place to be, that's for sure. So far, most of my little ISM group seems to have the same calm response to this crazy scenario, and that is helpful. During the day we will catch taxis (largely to save time as well as for safety) if they are going where we need to go. If we are going to dangerous areas, or at night when the taxis vanish, we tend to walk. We prefer to avoid paying someone to take us somewhere dangerous anyway.
Walking through this ghostly city at night is easier with a colleague for company and consultation. Everyone, including the taxi drivers, take circuitous routes designed to avoid as much as possible both places that have been bombed (as repeat strikes are not the less common for being pointless) or places that might be bombed.
Palestinian Legislative Council
Palestinian Legislative Council
This process is becoming increasingly intricate. Last night, E and I began the route to the hospital as we had the night before, choosing what had been the safeish route then. We didn't realise (til we found it looming above us) that this route, yesterday watched over by the elegant and massively solid Palestinian Legislative Council, now included its enormous remains. I am awed by how much power it must have taken to destroy it. We stumbled swiftly over the rubble away from it, rockets occasionally lighting the sky above us, in time for us to cover our ears.
About 14 mosques have been bombed since Saturday. Early on, after covering the destruction of the mosque that had also killed the Balisha girls, V and I had to pass a beautiful one in Jabalia. An old man explained we had come the wrong way, and said we had to go back pass what he called the "mosquito". We did, uncomfortably. I heard yesterday it no longer exists.
Old Governor's Mansion
Old Governor's Mansion
There used to be a lovely house overlooking the sea on Charles de Gaulle street, surrounded by one of the few gardens with lush green grass. In August when I was first here, I would peer in through the railings as I passed. I discovered yesterday it is rubble, the white staircase climbing into nowhere now. I am told it was the governor's mansion from the time of Egypt's rule here in the 50s, used mostly since the 60s to host dignitaries, historic building. Not someone's home though. The Al Quds doctors were telling us that most of last nights targets in Rafah were homes.
I was thinking about rubble, and how it all looks the same, though the buildings it once constituted all looked different. And how tiring and sad it must be to clear it by hand, when you maybe haven't eaten enough or slept enough. Especially if it is your personal rubble.
My uncle phoned today, he was surprised to find that, of all the important things he could have interrupted me doing, I was in fact washing my hair. I haven't slept a night at home once since the strikes began, but I do managed to the occasional visit for a wash. And to eat jam with a spoon since it is the sole foodstuff at my place.
At least one more emergency medical worker was injured today. Ahmed Eid, 25, was attempting to rescue people in the just-bombed house of the Babish family, in the Sheikh Radwan area east of Gaza city at about 4pm, when Israeli planes took the opportunity for a second strike. 6-7 civilians were injured and Ahmed required stitches to his head. There are unconfirmed reports of injuries to another medical worker. 3 children were killed by rocket attack in Khan Younis. At 1.30 this afternoon, Dr Hasan Khalef from Al Shifa tells us that in the last 24 hours, 20 children have been killed and 112 wounded, and 8 women killed and 135 wounded. Ismail, the third child of the Hamadan family, died yesterday of his injuries.
Gaza people too have grieved for the Ni'lin boys killed by Israeli soldiers for being out on a West Bank demo against the Gaza strikes – 22 year old Arafat, who died that day, and 18 year old Mohammed, who was shot in the head by Israeli soldiers and died of his injuries yesterday.
To be absolutely honest, if this goes on for weeks, I don't think all of my ISM group will make it out alive. But are our lives worth any more than those of the people of Gaza?