UPDATE: Settlers are attacking Palestinian residents and property around the West Bank in a coordinated outbreak of aggression following the eviction of settlers from the occupied Rajabi house in Hebron. Attacks against Palestinians have been reported from Turmas'ayya, Burin, Huwarra, Beit Iba, Azzoun, al-Funduq, Assira-al-Qabliya and Susiya, as well as the mass settler riots in Hebron.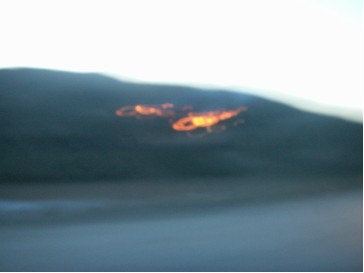 10:30pm 4th December: Settlers have thrown molotov cocktails at a house in Assira-al-Qabliya, Nablus region, setting the house alight. Widespread damage has been reported by Palestinian firefighters who have now put out the blaze.
In Susiya, the tent of Hajet Sarra Nausaja has been burnt down by settlers who have stormed through the area.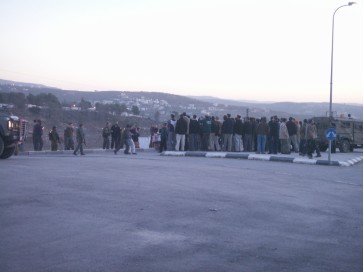 One Palestinian man has been taken to hospital in Qalqilya after his car was attacked by settlers close to al-Funduq. His condition is as yet unknown. Residents of al-Funduq also reported that Israeli soldiers ordered all shops to close and people to remain inside their homes in case the settlers arrived.
6:30pm 4th December – These coordinated attacks appear to be the manifestation of settler warnings of a 'price-tag' campaign that were reported in September of this year.
Just outside the village of Turmas'ayya, Israeli soldiers stopped a bus and at least 40 other Palestinian cars from traveling down Road 60 that links Nablus and Ramallah. As the cars were being stopped settlers attacked the cars, throwing rocks and other projectiles. Large-scale damage was reported from the scene.
Those trapped inside the cars report that Israeli soldiers are refusing to intervene and prevent the settler attacks or to allow the Palestinian traffic to pass so as to escape from the settler attacks. Witnesses to this have said that they are very scared and that there has been considerable damage caused towards the bus and cars.
In the village of Burin, Nablus region, over 100 settlers have attacked the village, throwing stones at Palestinian houses and damaging property. Settlers have also set fire to Palestinian agricultural land in Burin. Groups of settlers have been throwing rocks at houses with Israeli soldiers seemingly unwilling to prevent them. In one house residents are trapped inside while settlers have repeatedly thrown rocks against their property. International Human Rights Workers in the village have reported that Israeli soldiers in the vilage have been using tear-gas and sound grenades against Palestinians not in their homes, but are refraining from using such force against settlers attacking the village.
Rather than confront the violent settlers, Israeli soldiers have preferred to use force on Palestinian residents in the regions. A resident of Burin was violently detained by Israeli soldiers after settlers had attacked his car and broken his windshield. A similar incident was reported to the International Women's Peace Service as one resident, while driving home, was confronted by Israeli soldiers who refused to intervene as settlers attacked his car.
International Human Rights Workers have also reported that both Beit Iba and Huwarra checkpoints have been blocked by settlers and that rocks are being thrown at Palestinians attempting to pass through the Israeli checkpoints.
In response to these settler attacks, rather than confront the settlers, have blocked Palestinian traffic from running on Road 60 that links Nablus and Ramallah, the road between Kufr Laqif and Jinsafut and the road between Jit and al-Funduq. With the religious of Eid approaching, it appears that Israeli forces are seeking to prevent Palestinians traveling instead of acting to prevent the settler attacks.