At around 3 o'clock on Monday afternoon, the first day of Eid al-Adha, Israeli forces seized two members of the Jabari family from their home under charges of stone throwing.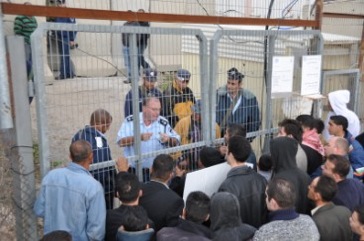 The soldiers brought security camera tapes from the nearby the illegal Quiryat Arba settlement supposedly showing the two throwing stones along with two members of the settlement as "witnesses". Fadi Jabari, 20 and Mohammed Jabari, 22, live directly across from the recently evicted Rajabi occupied house and over the past months have suffered tremendously from settler attacks on their home and families. In recent attacks they have had part of their home torched, their windows completely smashed and have each been injured by both rocks and assault.
Settlers attacking the Jabari family house
The police and army present during the multiple settler attacks did nothing to help the family protect themselves, in fact they often shot tear gas into and around their home. Both men have been treated for the effects of extreme exposure to the toxic gas. Mohammed has two small children, each under the age of two, to protect. None of this information was taken into account when apprehending the two Palestinians.
Local outrage in response to the arrests pushed the community around the Jabari house to hold a demonstration on Tuesday afternoon at the police station where the two are being held. The peaceful demonstration of 50 Palestinians and internationals was quickly dispersed by the authorities within the station, who violently attacked and detained three Swedish demonstrators from the International Solidarity Movement.
The demonstrators held signs proclaiming that the real criminals were the violent settlers who injured dozens of Palestinians in the days leading up to and following the eviction of the illegally occupied Rajibi house, not the two Jabari men who were only protecting their homes and children from the rampage that left large parts of their land torched and their house damaged.
Members from all of the Palestinian families in the neighbourhood around the Jabari home came to the demonstration today to show their solidarity with the two men and their family. The members of the community have banded together in many situations to protect one another from their violent settler neighbors.
The goal of today's demonstration was to ensure that the arrests of these two men did not happen silently, that while all of the world was still watching they would see that illegal and arbitrary arrests of Palestinians by the Israeli authorities are commonplace in the West Bank and that the mass settler attacks on Palestinians that were seen on Thursday afternoon still has not ended.
The two men are currently still being held with no word of a trial or release date.