For the second time in one week, Palestinian firefighters were called to put out a fire in Burin, a village south of Nablus. According to eyewitnesses, at approximately 3pm, on Thursday 6th November, Israeli settlers from the nearby illegal settlement of Bracha, burnt Palestinian farmers' olive trees and agricultural irrigation systems.
The attack took place in lands near to the notorious Huwarra checkpoint, highly visible to all those at the checkpoint. One resident of Burin commented "My friend called me from the checkpoint saying 'come and see the settlers burning the lands'". The fire was lit directly adjacent to the lands which were burnt exactly one week before – an attack in which settler youth, witnessed milling about the area during the blaze, were the only suspects.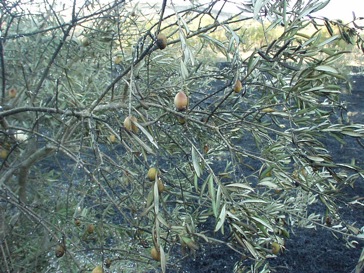 A number of dounums of land were torched, including olive groves, orchards, and grasslands.
Burin has faced many arson attacks this olive season by settlers from the Bracha and Yizhar settlements. Ali Eid, the mayor of Burin estimates that over fifty percent of the village's olive groves have been burnt by the settlers, greatly diminishing the yield of this year's harvest. Other attacks on Burin farmers during this harvest include settlers throwing stones at farmers, with one requiring hospitalization; shooting into the air; as well as burning farmers' equipment. In other areas, settlers have severely beaten farmers; smashed cars; and stolen olives before farmers can harvest.
These attacks have been increasing throughout the West Bank since the launch of the "Price Tag" or "Mutual Responsibility" settler campaign, designed to prevent any settlement eviction anywhere in the West Bank by wreaking havoc in areas surrounding every settlement. The main targets of this campaign are Palestinian farmers whose lands lie near to the illegal settlements, with the burning of Palestinian lands being advocated as a prime tactic.
This increase in the number of attacks and levels of intimidation taking place has led to some farmers in neighbouring villages feeling unable to harvest their olives at all, for fear of attack – even with the offer of accompaniment by international and Israeli activists. These attacks are enabled by an apartheid policing system that not only ignores Israeli settler attacks on Palestinians and their lands; but also many times facilitates them through direct collusion between Israeli soldiers and settlers.