On the evening of November 30th, Palestinians from the West Bank city of Nablus assembled in the city centre to show support for the people of Gaza, who have been denied access to food, water, medicine and electricity as a result of the complete closure of the Gaza Strip by Israeli authorities.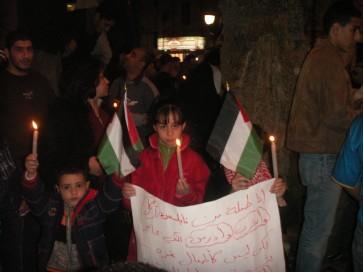 To commemorate the International Day of Solidarity with Palestinian People, over 100 Nablus residents, together with international activists, lit candles and held signs saying "Long Live Gaza," and "Stop Ethnic Cleansing in Palestine", referring to the systematic Israeli attempt to further expel Palestinians from their homelands and diminish Palestinian national identity.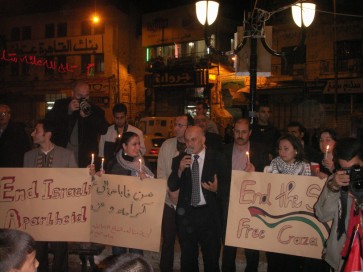 The demonstration, organized by a coalition of different Palestinian political parties and organisations, called for unity against the Israeli occupation, chanting, "One flag, one homeland". Many speakers pointed out that although it does not match the totality of the siege on Gaza, Nablus too is under siege from Israeli checkpoints and closures.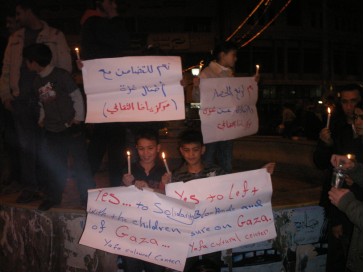 Solidarity was also expressed between the refugee camps in Nablus and those in Gaza, with the crowd chanting "From Nablus to Gaza, we will live with dignity!".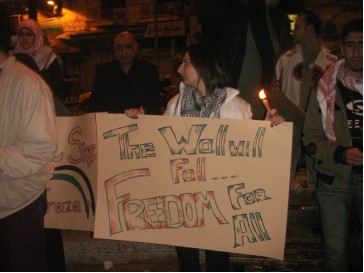 In a clear act of collective punishment and violation of international law, the Gaza Strip has been almost completely sealed, making de-facto prisoners out of the region's 1.5 million people. These policies have already cost hundreds of lives, and destroyed the livelihood of hundreds of thousands, leaving over 80% of the population below the poverty line, and facing imminent starvation as much needed food supplies are denied.