Ahmad Droubi and his 80 year old father, Mahmoud, were refused access to their olive groves located within the illegal settlement of Avne Hefez for the third time this week, despite having received prior permission from Israeli authorities.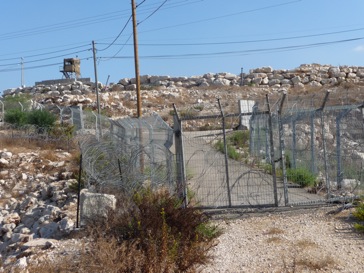 Private security guards at the settlement refused to allow the farmers, accompanied by international activists, entry to the settlement – first denying them entry outright, and then telling the farmers that they would be allowed to enter the settlement if they traveled around the settlement to the back gate. The farmers complied, making the long trip through the rocky olive groves, to find the back gate locked and abandoned.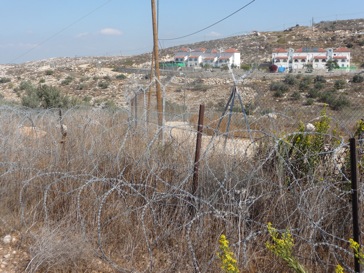 After waiting for over an hour, attempting to convince the Israeli District Coordination Office (DCO) to uphold their coordination, the farmers gave up trying to harvest their olives. Representatives from the International Committee of the Red Cross (ICRC) claimed that it was the farmers' fault that they were not allowed to enter their lands, because they provided their land ownership papers directly to the Israeli DCO, rather than sending them through the Palestinian DCO. Such bureaucratic nightmares are a mainstay of the Israeli occupation, working to keep Palestinians from their lands; transfer ownership of lands from Palestinians to the Israeli state; and deny Palestinians identification cards.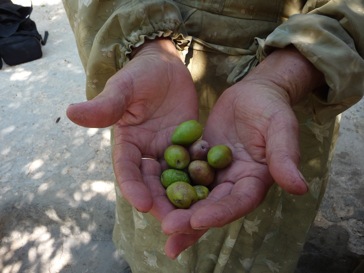 The Droubi family's lands were encircled by the settlement walls five years ago, when its boundaries expanded. Having already lost more than 240 dunums (60 acres) of land when the settlement was first illegally built in 1982, it has been extremely painful for the family not to be able to access their remaining five dunums. "Since five years we have not been to our land, we have not even seen our trees. Once i went to try to look just to see if there was any fruit on the trees. But the grass was so long I couldn't see anything", says Ahmad. "For my father these trees are like his sons, because he planted them. He says that they are even better than his sons, because the trees are obedient and we are disobedient". There is one olive tree that remains outside of the settlement fence. The elderly Mahmoud rode his donkey around the settlement to find it, and brought back olives to the family, "Just for the memory of the trees".
Usually the family is unable even to visit this one tree, or to even to try to see the trees through the settlement fence. Watching farmers pick outside of the settlement, while waiting at the gate, Ahmad commented, "If it was not olive harvest season, they [soldiers] would shoot them".