On the 13th September settlers rioted in the village of Assira al Qabliya while Israeli forces invaded the village and imposed curfew. Eight people were injured during the riot, two from live ammunition.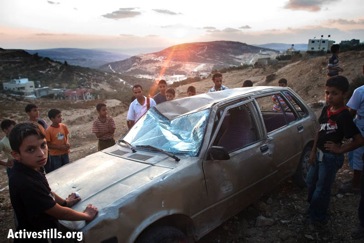 Photos courtesy of Activestills
According to media sources a young settler child was attacked from an intruder into the Yitzhar settlement. Soon after settlers gathered on the hill and rioted through Assira al Qabliya, shooting live ammunition and causing widespread damage. Two people were hit by live ammunition, while 4 were reportedly hit by rubber-coated steel bullets from the Israeli army.
International activists managed to access the village to show solidarity with the besieged villagers as the army invaded and imposed curfew. One of the families had managed to film settlers and soldiers coming into the village, with the soldiers refraining from preventing the settlers enter. This video was shot on a camera supplied by B'Tselem as part of their 'Shooting Back' campaign, through which cameras have been handed out to Palestinians particularly at risk from settlers and the army.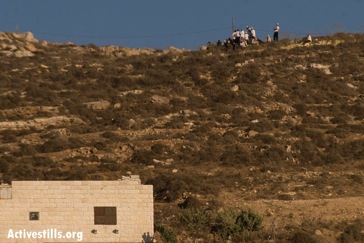 The internationals were joined by Israeli activists that afternoon. As the army invaded again in the early hours of the 14th September, they were surprised to find Israelis within the family home they had come to search.