To learn more about the Christian Peacemaker Teams' work in Palestine click here
27 July 2008
AT-TUWANI – At 1:50 pm, on Sunday, 27 July at least three Israeli settlers attacked Palestinian children and two internationals as they walked to
their village of Tuba.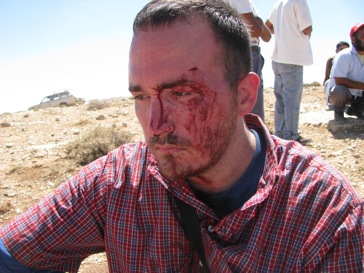 The children had been attending summer camp in the village of At-Tuwani. As the fourteen children and two internationals,
from Christian Peacemaker Teams (CPT), were walking in a valley south of the illegal settlement outpost of Havot Ma'on, one masked settler came down the hill, throwing stones with a slingshot. The children and CPTer Jan Benvie ran ahead, but other settlers were approaching them from the opposite side of the valley. None of the stones thrown by the settlers struck the children, aged between 6 and 15 years old, and they were able to run to safety.
CPTer Joel Gulledge was filming the attack. When the masked settler saw Gulledge with the video camera, he began directing his stones at Gulledge. The settler hit Gulledge in the leg with a rock and he was unable to run. The settler then ran to him, wrested the camera from him, and began beating him with a rock and the camera. After that, the settler ran off with the camera.
On 22 July, the military did not escort the children. Only seven children were willing to risk walking alone to At-Tuwani. The children informed CPT that at least eight other children did not attend the summer camp because they were too afraid to walk without a military escort. On the morning of 23 July, the army again refused to escort the children. The children were chased by three settlers, one of whom was masked and
carrying a stick, while they walked unescorted to the summer camp. On 26 July, a military personnel informed internationals that the army would no longer provide an escort for the children, who were waiting for the army to arrive while four settlers from the illegal Israeli settlement outpost of Havot Ma'on shouted at the children. The personnel would not give the name and brigade of the commander refusing to provide the escort. When the international explained the dangerous situation for the children, the military personnel said, "I don't think the settlers will attack the children."
In October 2004, Israeli settlers attacked Palestinian school children and internationals in the same area as the attack on the 27th. Two internationals were hospitalized and, after international media coverage of the attack, the Israeli Knesset recommended that the Israeli military provide a daily escort for the children to go to and from school.