On 6th June 2008, at 11.30am, approximately 150 demonstrators from the villages of Umm Salammuna and Al Ma'sara attempted to march to the construction site of the illegal Israeli apartheid wall in protest of the construction which is stealing the land of the village.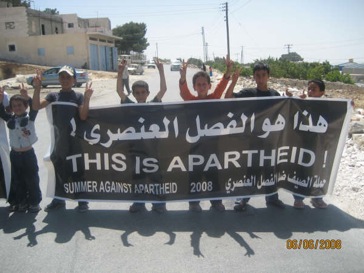 Demonstrators consisted of residents of the village, including children, international and Israeli activists. This demonstration which is planned to continue on a weekly basis served as part of the Palestine-wide launch of the Summer Against Apartheid campaign. The demonstration commemorated the 41st anniversary of when Israel first began their occupation of Gaza, East Jerusalem and the West Bank, which has since continued unabated.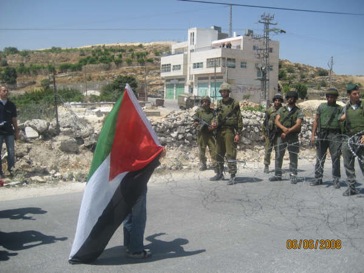 As the demo approached the entrance of the village, soldiers barred them access by placing barbed-wire across the entrance. When children participating in the demo tried to push the wire aside in order to continue to reach the land of the village, soldiers attacked them and attempted to arrest them.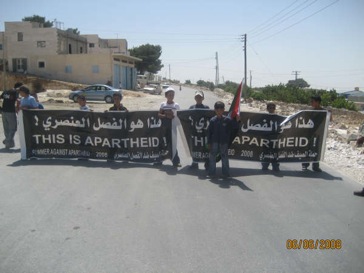 Mahmoud Zwahre, the director of Al-Ma'sara's Popular Committee against the Wall, delivered a speech about the summer campaign and Israel's occupation of Palestinian lands. He also informed demonstration participants that over the last two-plus weeks, there has been no water in Al-Ma'sara. Its water sources, he explained, have been re-routed by Israel to the illegal Israeli settlements that surround the village. And this despite the fact that villagers pay four times what the Israeli settlements pay for water use even though they use a fraction of the water that the Israelis use. Mr. Zwahre went on to compare what is happening in Palestine to what happened in Apartheid South Africa.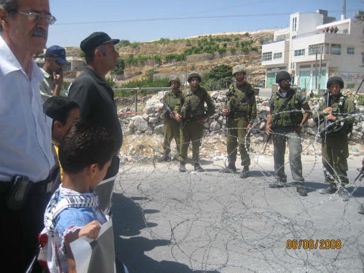 The demonstration was part of a series of actions throughout Palestine to launch the Summer Against Apartheid campaign of 2008, with further actions planned across the West Bank throughout the summer. Similar actions have taken place on Thursday in the village of Qaffin, where residents have erected an activist camp against the apartheid wall there; at Beit Eba checkpoint in Nablus; as well as on Friday in Bil'in, Ni'lin, and Al Khader.