On 21st June the villages of Sarra and Qussin, near Nablus, organised simultaneous demonstrations against the apartheid road system that denies them freedom of movement. Organised as part of the Summer Against Apartheid campaign, both villages marched towards the respective roadblocks that enable the existence of the Israeli-only road stretching from the Beit Eba checkpoint to the Jit checkpoint.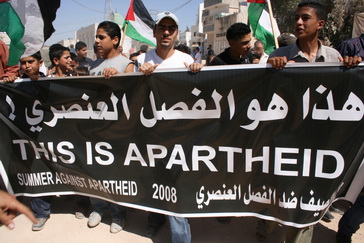 Sarra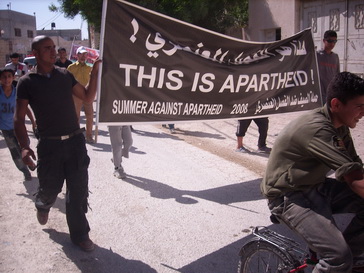 Qussin
In Sarra approximately 200 residents and internationals attempted to remove the earthmound roadblock, using spades and shovels to dig away at the mass of earth, rocks and rubble that blocks the villagers from accessing the Beit Eba – Jit road. Holding a banner that read "This is apartheid!", protesters continued to work at removing the roadblock for approximately 20 minutes before Israeli soldiers finally arrived.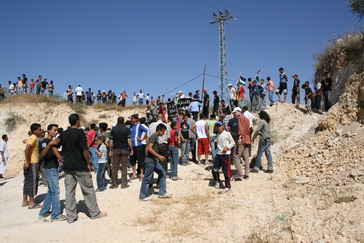 Demonstrators sat in the middle of the apartheid road, chanting "Freedom for Palestine", before moving back to stand in front of the roadblock as five jeeps and one Armoured Personnel Carrier (APC) arrived. Soldiers immediately took up sniper positions, removing Palestinian flags that had been planted in the land by the road, in a clear attempt at provocation. Protesters, however, refused to take the bait, and maintained a non-violent demonstration. After one and a half hours, the demonstration moved back to the village, determined to continue the struggle for their freedom.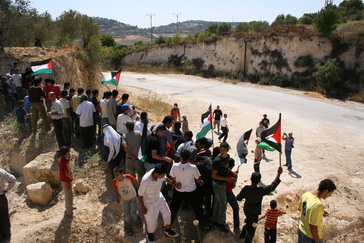 In nearby Qussin, approximately 50 residents of the village were joined by international human rights workers (HRWs) and marched from the village to find their way already blocked by an Israeli APC. Activists confronted the soldiers, marching directly up to the jeep, bearing banners that read: "This is apartheid!" and "Free the village of Qussin". Soldiers ordered protesters to leave the area and attempted to intimidate them by driving forward in the APC, bearing down on the activists. The demonstrators, however, held their ground, refusing to yield to the intimidation.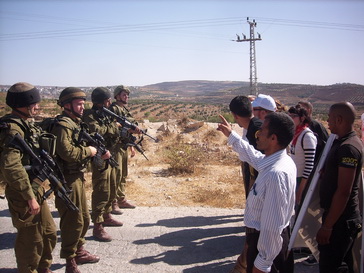 Shortly thereafter, the mayor of the village entered into negotiations with the soldiers, resulting in the arrival of the Israeli District Coordination Office (DCO) – the office responsible for the coordination of Israeli military activities in each region. The negotiations resulted in an agreed meeting on Monday 23rd June, to further discuss the possibility of opening the road-gate that prevents the villagers from accessing Nablus directly.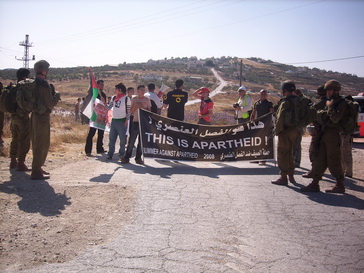 The villagers, however, will continue to demonstrate against the road-gate that forces them to pass daily through the notoriously difficult Beit Eba checkpoint each day in order to reach the nearby city of Nablus.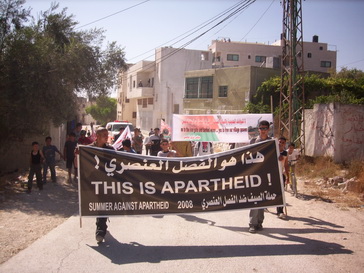 Both villages have committed to joint, weekly demonstrations against this system of apartheid, which prohibits the residents from entering or exiting Nablus without passing through checkpoints. This level of coordination between villages is new for the Nablus region, but both villages are hopeful that more of the surrounding villages will join them in their upcoming demonstrations, in the hope of reviving the Palestinian popular struggle in the area.