To view the International Women's Peace Service (IWPS) website, click here
On Friday the 13th of June the village of Qaffin held a demonstration against the wall as part of their ongoing protest camp.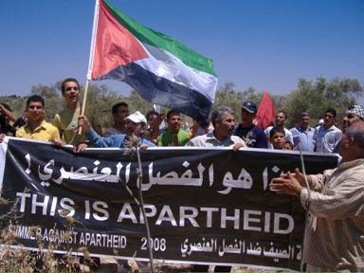 On the 5th of June the protest camp was launched with a festival and the establishment of several tents and containers close to the apartheid wall, which separates the village from about half of its land. The camp will continue throughout the summer with a program of cultural and political events.
Today more then a hundred people gathered in the camp to hold their Friday prayers. Supported by internationals from the International Women's Peace Service, they then marched towards the separation fence. The demonstration headed towards a spot in the fence which is supposed to be an agricultural gate, but has not even the facilities to allow passage and has never been open. Several military vehicles were present on the military road of the fence, separated from the demonstration only by barbed wire. Soldiers kept pointing their guns at the peaceful demonstrators as they were holding banners against apartheid and chanting anti-occupation slogans.
As the demonstration was dissolving, military vehicles also came to the fields inside of the fence and into the village. A stand off between the youth and the Israeli military ensued. Villagers later reported one of the youth was hit by rubber coated steel bullet.
The soldiers eventually left the village after about an hour. Even though the villagers fear more reprisals for their resistance, the protest camp will continue.