On the 16th June, people gathered in the center of Ramallah in a show of solidarity with the fishermen of Gaza, who today set sail in protest against the brutal Israeli imposed siege which is destroying their livelihoods. In Ramallah, demonstrators sat in inflatable boats while declaring 'Gaza On My Mind'.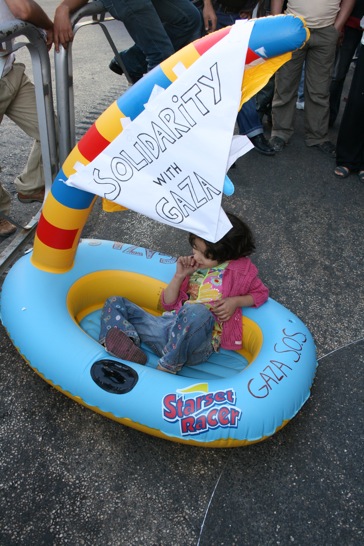 This action was in support of the Palestinian International Campaign to End the Siege's 'A Quest For Freedom' initiative that saw Gazan fishermen launch their boats in protest against the ongoing siege, in conjunction with protests at fishing docks around the world.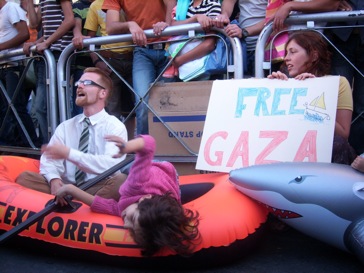 Over 40,000 people in Gaza make a living from the fishing industry, yet this community has been decimated by Israeli restrictions on fishing rights and the prevention of fuel from reaching the Gaza Strip.
According to the Fishing Syndicate in Gaza, fishermen need 40,000 litres of fuel and 40,000 litres of natural gas each day to operate throughout the high fishing season.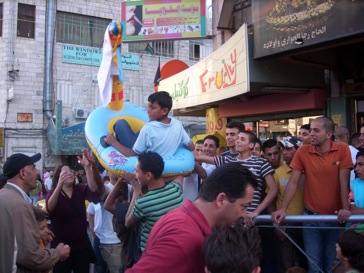 Starting in April each year, there is a migration of fish from the Nile Delta to Turkish waters which Palestinian fishermen have traditionally relied upon. Yet Israel limits fishing 6 miles from the Gaza shore and regularly attacks those who venture further than 3 miles – over 70 fishermen were arrested last year by the Israeli forces. The large schools that form the migration are usually found 10 miles from shore. The average catch of fish was over 3000 tons a year in the 1990's, now it is around 500 tons directly due to the Israeli siege of Gaza.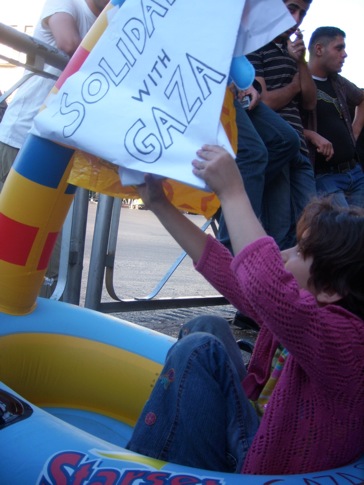 Not only this, but the brutal effects of the siege, the water in which the fishermen of Gaza sail in is now receiving 50 million litres of sewage per day because the people of Gaza have no alternative.