Bil'in:
On Friday the 9thof may, at the village of Bil'in around 100 hundred Israelis, Palestinians and Internationals gathered in solidarity to protest against the illegal wall separating the village and the local residents from their land.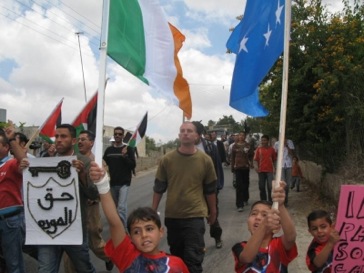 Photo By IMEMC's Haithem El Khatib
Shortly after mid-day, local villagers, Israelis and International peace activists marched towards the wall to show their support against the illegal occupation of the village's land. Not long after reaching the wall, the Israeli Army began launching tear gas and firing rubber bullets into the crowd of peaceful protesters. The excessive use of tear gas even effected local villagers not participating in the demonstration as a number of canisters were fired at a nearby house.
—————–
Al-Khader:
IMEMC: Protesters in Bethlehem affirm the right of return
To view original article published by IMEMC, click here
Around 200 Palestinians, internationals and Israelis demonstrated at military checkpoint placed at the southern entrance of Bethlehem, to protest the wall Israel is building on the lands of the Palestinian village of Al-Khader near Bethlehem on Friday morning.
The protest started with a prayer near the checkpoint, during which the preacher affirmed the right of return for the Palestinian refugees instated by the United Nations Resolution 194, as the 60th anniversary of the dispossession of the Palestinian people nears.
As soon as the protesters gathered for the prayer, at least 30 Israeli troops backed by 6 military vehicles, blocked the checkpoint in an attempt to foil the protest.
The nonviolent demonstration was organized by the Popular Committee against the Wall and Settlements as part of series of weekly protests against Israeli measures in Palestine.
Protestors carried Palestinian flags and banners reading, "Stop erasing Palestinian identity", "Stop ongoing Nakba", "End the Israeli occupation", and called for the recognition of right of return for Palestinian refugees.
The demonstration ended peacefully after one hour with no friction with the army.