Umm Salamona
The weekly demonstration against the wall in Umm salamuna gathered around 50 Palestinians and internationals on the 4th of April.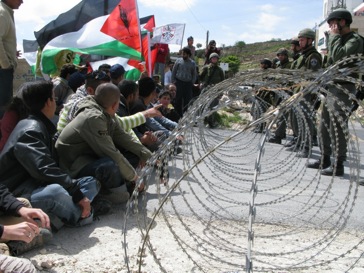 The peaceful demonstration marched down the main street until it reached the entrance to the town where the Israeli military stopped the demonstrators using marble barbed wire. At the entrance the demonstrators chanted and there where a speech in English and Arabic, where they asked the military to leave so the demonstration could pass, and reach the wall. But the military refused to let the demonstration through. After about an hour the demonstration ended. One person was detained by the soldiers and wasn't released for around an hour before the demonstrators walked away from the town entrance.
——————-
Bil'in
IMEMC – For original article click here
Ten non-violent protesters were reported injured during the weekly Anti-Wall protest at the village of Bil'in located near the West Bank city of Ramallah on midday Friday.
As the case each week, villagers from Bil'in along with Israeli and international activists marched towards the location of the Wall which is separating the village from its land. As soon as the protest reached the gate of the Wall soldiers showered the protesters with tear gas and rubber coated steel bullets. Medical sources reported that ten protesters suffered gas inhalation.
The village of Bil'in has been protesting the construction of the wall on the village's land for over three years.