FOR IMMEDIATE RELEASE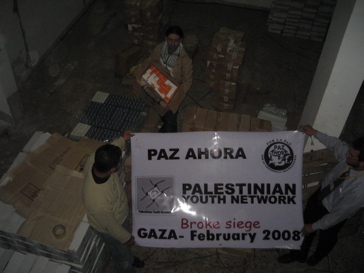 Palestinian Youth Network (PYN), Paz Ahora, and ISM Spain
March 5, 2008
Breaking the Siege of Gaza, Taking to the Streets
After three and a half weeks of waiting at Rafah with much needed medicines for Gaza, on the evening of Wednesday, March 5, Saif Abu Keshek, General Coordinator of the Palestinian Youth Network (PYN) managed to enter the besieged Gaza Strip. Carrying 50,000 euros worth of medicines unavailable or in very short supply in Gaza, Saif has been at Rafah since February 12, 2008, waiting for permission to enter, each day told to wait a little longer. "I finally made it in," said Saif, "but there are tons more aid for Gaza in dozens of trucks, still held up at the border."
Last week's Israeli military onslaught on Gaza, which killed over 120 Palestinians, many of them women and children, was met with deafening silence from government leaders and international agencies. This reality should not only sadden and enrage us, but also make us realize how important it is that civil society steps up to defend human rights in the face of organized impotence. Saif's entry into Gaza shows that the siege can be broken, but it needs pressure and persistence and pressure, which governments and the United Nations are not willing to exert. Currently that is not happening, and as the situation worsens, foreign journalists are being told to leave the Strip.
On the evening of Sunday, March 2, Palestinians young and old took to the streets of Ramallah banging loudly on pots and pans, blowing whistles, and screaming for people to wake up! Wake up we must. We must wake up and believe that we indeed have the power to effect change; then we must organize to show our representatives and decision-makers our strength.
Things that you can do:
U.S. citizens — President Bush's FY2009 budget request to Congress includes $2.55 billion in military aid to Israel, a 9% increase over actual spending in FY2007. This increase in military aid is the first installment of a ten-year plan, signed by Israel and the United States in August 2007, to increase military aid to Israel by 25%, totaling $30 billion over the next decade. Organize delegations to go meet with your congressional representative. Send your congressperson a letter here:
http://salsa.democracyinaction.org/o/641/t/2439/campaign.jsp?campaign_KEY=23113
Everyone – If the United Nations is not willing to hold Israel accountable for Palestinian lives, we can, by working on a grassroots level to isolate Israel. Please step up the BDS (Boycott, Divestment, and Sanctions) Campaign. Work on getting your schools, unions, places of worship, etc. to condemn Israeli atrocities, boycott Israel, and divest from companies that profit from Israel's occupation of Palestinian land. Latest statement from the Congress of South African Trade Unions (COSATU): http://www.cosatu.org.za/press/2008/mar/press1.htm
Below is an email sent from Saif on March 3, two days before entering Gaza, describing the scene on the border. You can contact Saif in Gaza at: +970-599-963-273.
————–
Escaping Death
March 3, 2008
The sound of ambulance sirens all over the place; wounded people here and there… This one is shouting and the other almost dying; and its red… everywhere is filled with blood. "Run fast," I heard them shouting. "We need an ambulance, now, now, now… This guy is dying. Please help him, please bring a doctor, give him pain killers… Do anything, just help him."
The medical response is much slower than his painful cries. The medical workers must check every one. They must decide who is more critical to move first, taking the risk that someone may die before being checked. Hundreds of people are waiting on the other side. Some people have been waiting for a month to go back to Egypt; Palestinians who entered to visit their families and now have no exit. Others, Egyptians who went to visit Gaza and are now stuck. But the most compelling are the Palestinian mothers and other family members who are watching the ambulances depart with their loved ones, praying that they will see them again, but not knowing. They cannot know. Maybe they will die along the way? Or perhaps they will receive the needed treatment but then get stuck in a detention center before being allowed to go back home. You can never know. In this place every thing is luck, or casualty.
I told them we have medicine to take to Gaza; this medicine is needed for urgent operations. They answered, "well, many wounded people are now in Egypt, why you don't give your medicine to an Egyptian hospital?" Did they really open the border? Who is going to be with the wounded ones? They will see no family before going back to Gaza. Visits are very restricted, and you can talk to no one.
These people are escaping death, but to an unknown destiny. They hope to find some mercy away from the Israeli killing machine. They are in an ambulance taking them to a hospital, and they don't know when they will return home, if they will. How painful it is to be wounded, almost dying, with no family around you, with no visitors. And how painful it is for any family not to be with their loved ones while they are being treated, or maybe living their last moments in this life. For some these last moments can be the only peaceful moments in their life, what an irony, you escape death to live your last moments dying away from your family.
The brutality of this occupation, that it is living in us, it is living everywhere, hunting us wherever we go. Perhaps some managed to escape death today, but death is still hunting the rest in Gaza.
Isn't it time to reclaim the streets? Isn't it the time to force change?
How many more must die before we realize that our silence is just part of the story; that one protest is not the answer; that the life of many
Palestinians depends on what the civil society may or may not do? Maybe it is time to get more radical. Maybe the Palestinians will help us to escape death, a different kind of death — the death of our humanity!
Saif