*Update* One of the injured, a man shot in the leg with live ammunition, has had to have his leg amputated.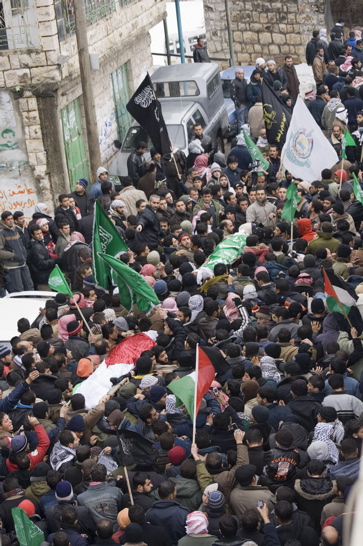 Today, February 1st, 2008, the Israeli Army fired rubber-coated and live ammunition, tear gas and sound grenades at villagers from Beit Ummar as they participated in a funeral procession.
This morning, the bodies of the two young men who carried out last week's attack in Kfar Etzion settlement were returned to their families for burial. At around 12.30pm, after Friday prayers, hundreds of mourners left the mosque to take the bodies to the cemetery, about two kilometres away. The army had already closed the road gate at the entrance of the village, thus blocking the main road to the cemetery.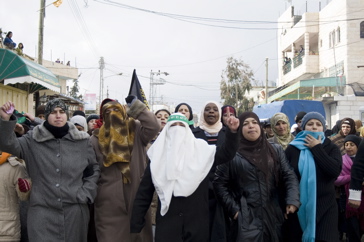 As the procession approached the gate, soldiers fired on them from the military tower which sits beside it. There was no warning or instruction to stop, and no stones had been thrown when the first shots were fired. At this time one man was taken away in an ambulance with rubber-bullet injuries, and a Human Rights Worker (HRW) was also hit in the thigh by a rubber bullet. Young men from the village responded by throwing stones towards the army.
The army continued to shoot tear gas, live and rubber-coated ammunition towards the crowd, which was retreating towards the village. A smaller group of mourners entered the cemetery via another road, and were able to bury the two men.
By 1.50pm at least four people had been injured by rubber-coated bullets, one of them in the head.
A few minutes later, the army began to invade the village, driving jeeps up the main street while soldiers on foot moved between the houses chasing young men, some of whom threw stones. They continued to use live ammunition as well as tear gas and rubber-coated bullets, at one time firing a sound grenade at a greenhouse.
At 3.30pm, the army were still inside the village. By this time, at least eight people had been injured, one of them by live ammunition, whose condition was said to be serious.