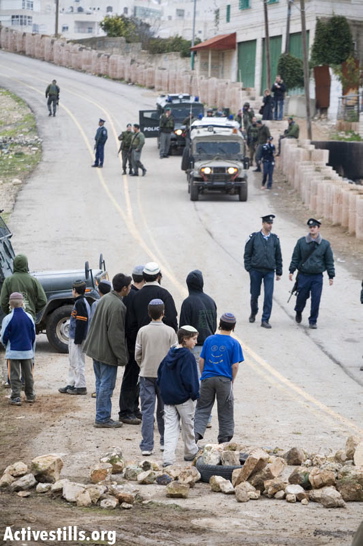 This morning at 4am, January 9th, settlers from the occupied house Beit HaShalom and Kiryat Arba settlement began putting up structures on Palestinian land belonging to the Jabri family, in the valley between Kiryat Arba and Beit HaShalom.
At first the settlers erected a tent which they later dismantled. Later around 50 young male and female settlers used large stones to block the military road and to build pathways and structures on land belonging to the Jabri family. They also made a Star of David from stones and earth, measuring approximately 10m across, easily visible from the air.
Israeli Border Police arrived early in the morning but did not attempt to stop the illegal building or the blocking of the road, although they did prevent the mob from attacking Palestinians trying to pass along the road. The army was also in attendance but this did not prevent settlers from attempting to harass Palestinians and international Human Rights Workers (HRWs).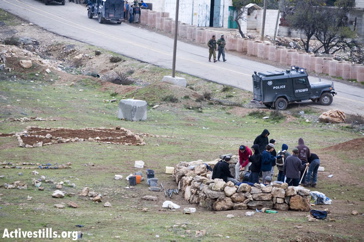 At around 1.30pm a group of young male settlers appeared to chase an elderly Palestinian man towards his home across the road from the land. Initially the police moved the mob from the property, but after pausing to pray for several minutes, the settlers entered the yard again and police and soldiers looked on as they verbally harassed HRWs and Israeli activists, and made attempts to break their cameras. The settlers remained on and around this property for around 3 hours, forcing the family to stay locked inside the house.
At around 2.30pm, HRWs observed soldiers turning away Palestinians who wanted to pass along the road.
At around 5.30pm, the owner of the land, accompanied by Palestinian and Israeli activists, showed the Police documents proving his ownership, but they refused to remove the remaining settlers. At 7.30pm some settlers remained on the land.
A similar event unfolded today on the other side of Kiryat Arba. However in that case, the owners and HRWs were successful in persuading the police to move the settlers by producing legal documentation.
These actions coincide with George Bush's visit to Palestine and Israel.