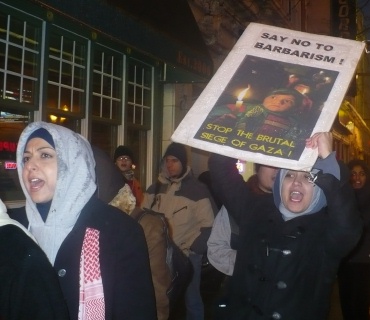 For the original article with many pictures, click here:
http://chicago.indymedia.org/newswire/display/81163/index.php
http://chicago.indymedia.org/newswire/display/81168/index.php
Hundreds of protesters rallied tonight in front of the Lakeshore Theatre on north Broadway to picket a benefit for the Friends of the Israeli Defense Force.
The Chicago protest was initiated by ISM-Chicago and endorsed by the Palestine Solidarity Group, the West Suburban Faith-based Peace Coalition, Chicagoans Against Apartheid in Palestine, the Chicago Coalition Against War and Racism, the Siraj Center for Holy Land Studies, the Gay Liberation Network, the International Socialist Organization, Students for Justice in Palestine-UIC, Students for a Democratic Society-UIC, and ANSWER Chicago.
Chicago's Palestinian and Arab American communities showed up in force, despite the threatening weather, to demand an end to the latest criminal Israeli siege of the Gaza Strip and the collective punishment of the Palestinian people.
Roughly half a dozen counter-protesters gathered in front of the theater entrance holding Israeli and U.S. flags. Their chants of 'dirty Arabs' and similar epithets were routinely shouted down with chants condemning Israeli state terror and occupation.
One protester from Not in My Name/Jewish Voices for Peace took the opportunity to point out to the badly outnumbered Zionist counter-protesters that far more progressive Jewish activists were present in solidarity with besieged Gaza and the local Palestinian community.