In the early hours of this morning the Israeli military invaded El-Ein refugee camp. Camp #1, as it is also known, lies just outside Nablus in the West Bank. The army entered the camp sometime around 3 a.m. and harrassed the inhabitants until nearly 7:30 in the morning.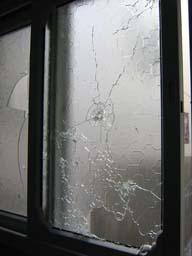 They broke into the house of Adel Abrahem and Abed Alrhman. The house was ransacked and some furniture was destroyed. The family, including a number of children, was forced to the floor and handcuffed where they remained for the duration of the search. Sound bombs were also used, which terrified the children especially. The army also opened fire indiscriminately, shooting out of numerous windows and destroying property inside. No one was arrested nor were any weapons found.
Todays invasion comes despite the recent 'security handover' to from the army to PA forces, and casts doubt on the Israelis promise to withdraw from the city.