Contradicting International Law
from Christian Peacemaker Teams, 2 June 2007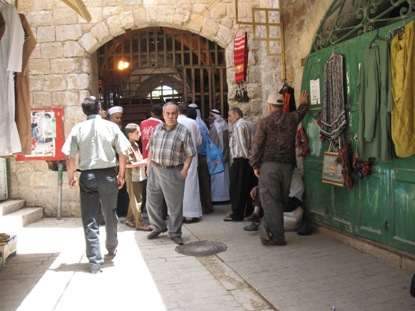 On the afternoon of Saturday 2 June, in a clear violation of international law1, the Israeli military closed a gate in the H2 area2 of Hebron, preventing the free movement of Palestinians and international tourists. The gate, which leads from the Old City souq (market) to the Ibrahimi Mosque area was closed for half an hour.
At 3:55pm CPTers Jan Benvie and Mary Wendeln observed two Israeli Border Police detaining and verbally abusing three Palestinian men at the checkpoint beside the Ibrahimi Mosque. When Benvie and Wendeln stopped to monitor the situation a Border Policeman came towards them and told them to leave the area. Before the CPTers could reply he told them, "If you do not move from here I will close the gate", pointing to the large metal gate that separates the checkpoint area from the old city souk.
Wendeln asked the Border Policeman his name and badge number, but he did not answer. Another Border Policeman came towards them and repeated the threat to close the gate. Benvie asked to speak to the commander who had given the order to close the gate. The two Border Police gave different responses, one saying that the commander was called Gadi, the other that it was not Gadi, but a "bigger commander". They then repeated the threat to close the gate if the CPTers did not move. The CPTers tried to clarify the situation with an Israeli police officer on duty at the mosque, but he said that he did not speak English.
While Benvie and Wendeln were speaking with the police officer the Border Police closed the gate and told waiting Palestinians that it was closed because of CPT.
Although the CPTers left the area the Israeli military did not open the gate until prayer time, by which time there were about 60 people, mainly Palestinian residents of Hebron, but also some international tourists, waiting to pass through.
A Scottish tourist, visiting Hebron for day, told Benvie "I felt really trapped. The soldiers at the mosque shouted at us, it was quite frightening."

1. International law prohibits collective punishment, i.e., the punishment of persons for acts committed by others (article 33 of the Fourth Geneva Convention and Article 50 of the Hague Regulations).
2. Under the Hebron Protocol of 1997 the city is divided into H1, under Palestinian Authority Control, and H2, under Israeli control.