FOR IMMEDIATE RELEASE
20 May 2007
UPDATE 21 May 2007, Three Palestinians were arrested this afternoon as they continued to non-violently resist the destruction of their land. Mohammad Abu Swai and two others from the village of Artas are being charged with "Assault," and a currently being held. Gaby Lasky, their lawyer, stated that those charged may be held up to 96 hours, and then an additional 96 hours could be added to this. Because there is a Jewish holiday on Tuesday and Wednesday, it is unlikely the arrestees will see a judge before Thursday. Gaby said it was more likely, unfortunately, that they will be brought to the court on Sunday, 6 days after being arrested under false charges.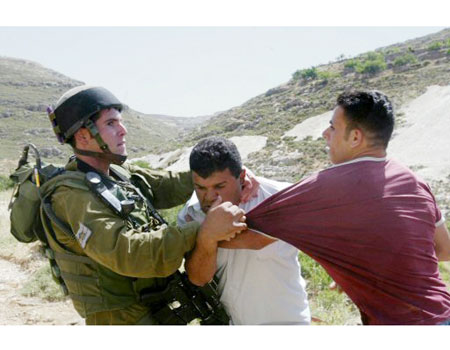 Also, Palestinian journalists were shot at by Apartheid Wall security personnel. The story and photos can be seen HERE.
Family's trees uprooted in Artas, Palestinian Information Minister attacked by Israeli soldiers

Video from Munster43
On Sunday morning, May 20, Israeli Occupation Forces destroyed an apricot and date orchard comprised of 28 trees in the village of Artas near Bethlehem. Four Israeli activists were arrested.
At 5:30 AM, approximately 40 soldiers came and forcibly removed approximately 60 Palestinian, Israeli and international activists who had been maintaining a presence on the land since Wednesday, May 16. Soldiers hit and kicked activists who had chained themselves to trees, and forcibly threw others over a stone wall, including elderly Palestinian women. After the activists had been removed, the bulldozer entered the land and the army uprooted the trees and ripped apart the land.
Israel's apartheid wall is being built through the village of Artas to allow for the expansion of the Efrat settlement and is confiscating approximately 4000 dunums of land. Two new settlement neighborhoods, Tamar and Dagan are being built on the land and will be attached to Efrat. This expansion is illegal under international law and the so-called "Road Map to Peace." Sewage from Efrat will be piped out through this former orchard.
Later, at 1:30 pm, Palestinian Information Minister Dr. Mustafa Barghouti arrived at the demolition site in Artas. There, he held a press conference, highlighting speakers from the village and their recent trauma. Shortly after the media left, according to Mohammad Abu Swai, about 50 Israeli soldiers entered the site and started to brutalize the crowd. Dr. Barghouti was hit with a soldier's club from behind.
Abu Swai explained, "The soldiers are acting like animals! They are hiiting anyone in their path, including the Minister!"
Soldiers are still currently stationed in the village. Palestinians were planning to replant their uprooted trees, including an additional 30 trees that were just purchased.
Like most settlements, Efrat was started illegally as an outpost but was later approved by the Israeli supreme court.
The orchard belonged to the Abu Swai family.
Video footage of demolition available upon request.
For more information:
Arabic: Awad Swai 0598305810
English: Jesus Martinez 0599943157
Hebrew/English/Arabic: Adar 0525444866