by ISM Hebron, March 9th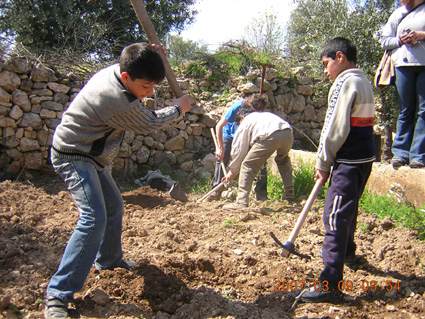 Palestinian activists from the International Solidarity Movement organized a tree planting session in Tel Rumeida on Friday. This was advertised widely and many local Palestinians, Israeli activists and Internationals came to join them with around 30 people in all. Organisations represented included ISM, EAPPI (World Council of Churches), Sons of Abraham and The Alternative Information Centre in Bethlehem.
All the trees had to be carried into H2 by hand as Palestinians are not allowed to drive in the Israeli controlled part of Hebron. They planted olive, lemon, and fig trees for many families living close to the illegal Jewish settlements who have been subjected to constant harassment from the settlers. It was particularly important for the Palestinians to have active support from so many Israeli Jews.
At 1:30 pm Palestinians, Israelis and Internationals all gathered in front the Centre near the Tomb of Abraham and walked to the Christian Peacemaker Teams' apartment to commemorate the first anniversary of the death of CPT member Tom Fox who was killed in Iraq last year. Palestinians and Israelis had to walk separately as neither is allowed to walk in the other's zone. They planted an olive tree in front of the apartment with a commemorative plaque and both Palestinians and Internationals gave brief speeches after holding a one minute's silence. An article written by Tom Fox shortly before his death was read out entitled "Why Are we Here", in which he said, "We are here to root out all aspects of de-humanization that exist within us. We are here to stand with those being de-humanized by oppressors and stand firm against de-humanization."