by ISM Hebron, February 18th
Today at 4 pm human rights workers (HRWs) in the Tel Rumeida district of Hebron were alarmed that colonists had entered local resident Issa Amro's house on the hilltop overlooking the olive grove. For the third time this week a group of about 10 colonists illegally occupied this Palestinian property. Today they stayed in and around the house for an hour, while nearby soldiers didn't take any action to get the trespassers out.
When the HRWs arrived to join Issa Amro and Israeli HRWs, the colonists reacted by making disgraceful remarks. Colonist Yifat Alkobi, who became infamous starring in the "Sharmuta Video", said to one of the HRWs : "You are a Nazi, go back to Auschwitz! ".
After this brief stand-off the IOF soldiers did arrive and also entered the house and garden. The colonists carefully took pictures of international and Israeli HRWs present. Finally they left the house and its garden. Issa Amro and the HRWs were then told to leave by the police.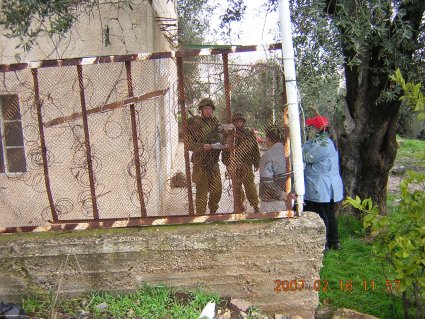 This latest episode in the struggle against colonist occupation and IOF complicity ended today, but Palestinians residents are determined to keep on fighting for their rights in Tel Rumeida.