by Women in Black Los Angeles, February 5th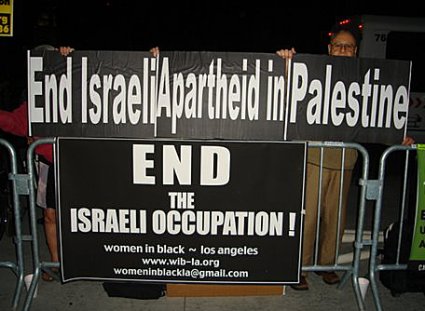 In the hour and a half before Monday's Los Angeles performance of the Israel Philharmonic at Disney Hall, candlelight illuminated more than 60 black-clad protestors standing silently in front of downtown's Disney Hall with signs saying "End Israeli Apartheid in Palestine and Boycott Israel Philharmonic".
With the parking garage closed, the entire audience had to walk by the protestors, and, while most ignored the leaflet offered by one of the organizers, none was able to ignore the protestors' message.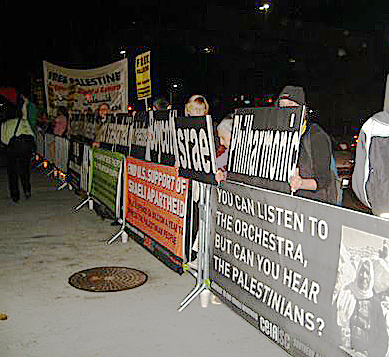 In the week before the performance, the L.A. Philharmonic had tried to move the protest away from Disney Hall. They even asked for, and got a resolution from the Los Angeles City Council, closing the sidewalk in front of Disney Hall. But once attorneys Jim Lafferty and Carol Smith from the National Lawyer's Guild-Los Angeles Chapter made it clear that they would sue on constitutional grounds, Disney Hall agreed that the protestors could use the public sidewalk. And use it we did, to great effect.
The vigil, organized by Women in Black-Los Angeles, was the culmination of four months of organizing that began with a letter to the musicians of the Israel Philharmonic asking them to take a public stand against Israel's 40-year occupation of the West Bank, Gaza and East Jerusalem, following the example of famed Isaeli conductor and pianist Daniel Barenboim.
The letter was signed by more than 1,000 supporters worldwide, but their plea was not honored with a reply from the musicians. A written request to the L.A. Philharmonic management asking them to either cancel the Isareli group's perfomances or make an announcement in opposition to the occupation before each performance met with refusal, so the organizers began their protest in January with silent vigils at matinee performances of the Los Angeles Philharmonic. On
Tuesday, Feb. 6th, 20 protestors returned for a second night of silent vigil.
In addition, six brave souls in New York held a vigil during the January 3oth performance at Carnegie Hall, and people attending couldn't miss them. Despite some insults from the crowd, they stood in silence with their signs and the letter to the Philharmonic in their hands. One of the vigilers said, "We will not remain silent as long as there is so much injustice in the world."
In addition to Women in Black-Los Angeles, the vigil was supported by the ANSWER Coalition, Middle East Fellowship and Campaign to End Israeli Apartheid.