by ISM Hebron, February 10th
Around 7:45 am human rights workers (HRWs), who were monitoring the checkpoint on Tel Rumeida street as Palestinian children made their way to school, watched as the IOF started doing military exercises. The soldiers simulated being under attack, shouted and pointed their guns at the children passing by on their first day of school after the holidays. The same procedure was repeated at the entrance to the children's school in Shuhada Street and again around 11:30 at checkpoint 56. These events took place in full view of the young schoolchildren walking home. The HRWs observed the children were frightened and intimidated.
Around 11:45 three boys were taken to checkpoint 56 by the soldiers. They were handcuffed and questioned. One of the boys was released and two of them were taken to the police station.
At around 14:30, after the soldiers invaded Palestinian controlled H1 for the fourth consecutive day, clashes broke out between Palestinian youth and the IOF. The youth threw stones whilst the IOF reacted by shooting tear gas and rubber bullets. The Bab-al-Zawiya market was closed again causing further damage to local businesses.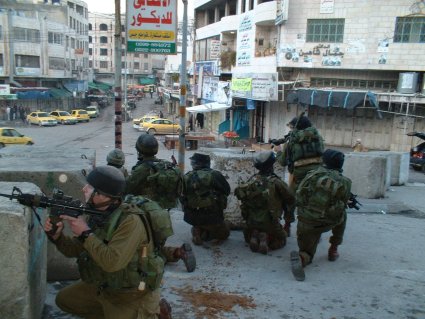 Several shoppers and shopkeepers suffered severe tear gas inhalation including one shopkeeper who was knocled out by the gas and had to be helped by youth to an ambulance.
One local was seen being shot with a rubber bullet and several others were reported being taken to hospital suffering the effects of tear gas inhalation.
Today's confrontation lasted for about 3 hours. Two Palestinian men were taken to hospital: one due to tear gas and another was shot with a rubber bullet. One Palestinian man was arrested.
Palestinian photographer Abdulhafeez Hashlamoun was abducted by the IOF as he was documenting a local resident being assaulted by the IOF .