by ISM Hebron, February 12th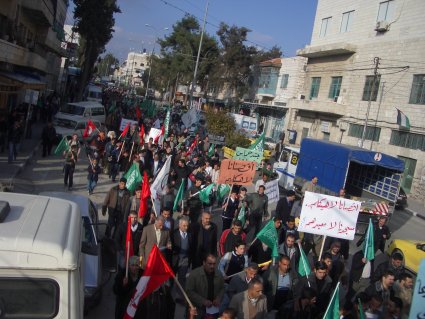 Today about 800 people demonstrated in central Hebron against the Israeli excavations near the al-Aqsa mosque in Jerusalem. A coalition of all the major parties had called for the protest. The demonstrators gathered at 3pm at the al-Hussein mosque where passionate speeches were made. During the whole demonstration slogans were shouted. Flags and banners from a variety of organisations were carried.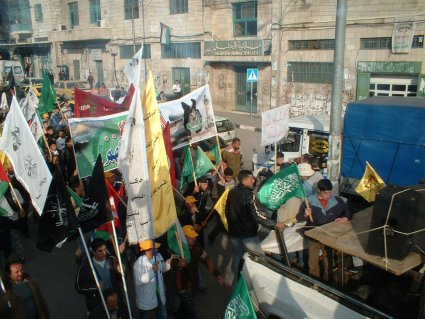 The demonstration was supposed to end at checkpoint 56 in the Bab al-Zawiya neighbourhood. However, the demo ended at Manara Square because for the sixth day about thirty IOF soldiers invaded the market area.
Again, clashes broke out as Palestinian youth reacted to the soldiers by throwing stones at them. Like the day before, the army occupied a building overlooking the market, firing teargas and rubber bullets at Palestinians.
Burning barricades were erected as the protesters waved Palestinian flags and slogans were chanted to vent their anger about the events in Jerusalem. The soldiers repeatedly provoked the protesters, yelling at them to get closer. One man, Hatem Qameze, was violently arrested and taken to the police station. At the checkpoint soldiers were aggressive towards local residents and internationals as well. At around 6pm the army went back to their position behind checkpoint 56.