by Sam, December 23rd
This afternoon over 200 Palestinian, Israeli and international activists participated in a protest against the proposed new settler-only, apartheid road which will run from the Gush Etzion settlement block to the south and illegally annex Palestinian farmland, affect homes and destroy significant heritage sites including a cemetery in the Halhul and Beit Ommar villages near Hebron in the West Bank. 800 dunums of agricultural land from Beit Ommar and 240 dunums from Halhul is being confiscated for the construction of this road, and four large greenhouses belonging to the agricultural college will be demolished. Part of the road will form a viaduct over the existing "route 60".
At around 12:30 the crowd marched peacefully from a parking lot outside of Beit Ommar along route "60" ntowards a nearby agricultural college in Al 'Arrub Refugee Camp carrying placards and chanting anti occupation slogans. Palestinians as well as Israelis and internationals walked in unity against the illegal plan in the pouring, but long-awaited rain. A small group of Israeli policemen and soldiers were present at the starting and half-way points, but did not interfere in any way.
The crowd then packed into the auditorium upon arrival at the college and were addressed by the mayor of Beit Ommar, a farmer from Halhul and a spokesperson from the Israeli contingent who voiced the support from the Israeli side in favour of the Palestinians who would be affected by the planned road. The locals were highly appreciative of all who supported and stated that it was the largest protest in the area to date.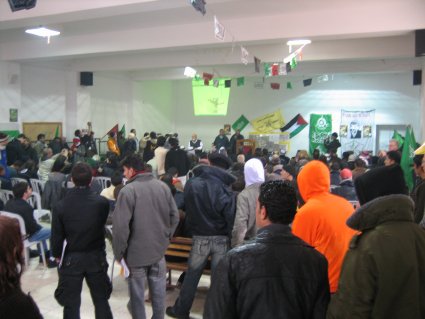 After listening to the mayor of Beit Ommar, a farmer and spokesman of Halhul and viewing some powerpoint images of the devastating effects of the planned road the crowd peacefully left the college. No soldiers or police were present at the conference and the protest ended without incident. Now all that remains to be seen is if the Israeli authorities heed and respect the non-violent message that was strongly conveyed to them today and change their plans which are illegal even by Israeli Law.

This report was amended on December 24th
*********************************