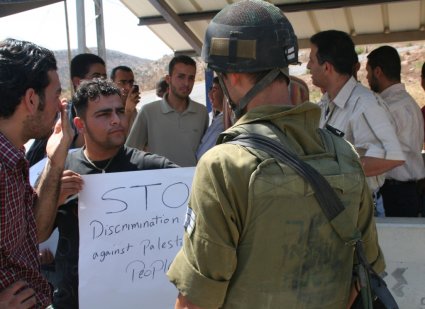 by ISM Nablus
This morning a group of university students and other residents of Beit Furik joined in a non-violent demonstration against the early closure of the checkpoint separating them from Nablus city center. About 50 Palestinian and international protestors marched across a settler road toward the checkpoint holding placards, demanding an end to the Palestinian people's misery and asking to speak to the highest commanding officer at the site.
A couple of students tried to explain to the soldiers that it is impossible for them to seriously pursue their studies when they are constantly having to fit their schedule around the random regulations of the checkpoint. Beit Furik checkpoint currently closes at 6:30 in the evening, and the protestors' primary demand was therefore that the checkpoint should be kept open until later in the evening, providing time for students and workers to return home from Nablus.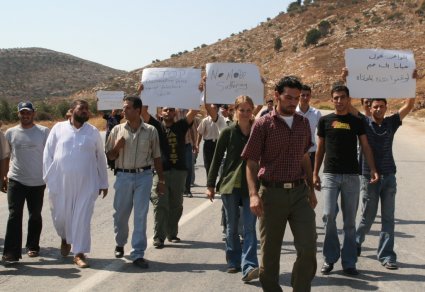 The soldiers would not listen to the demands and kept ordering the demonstration to back away from the checkpoint. The protestors then hung their placards from the tin roof of the pen where men and women are usually made to wait for their turn to have their IDs and persons inspected before being allowed to go about their day. These messages were ripped down, torn and crumpled up by the annoyed soldiers as the demonstration dispersed.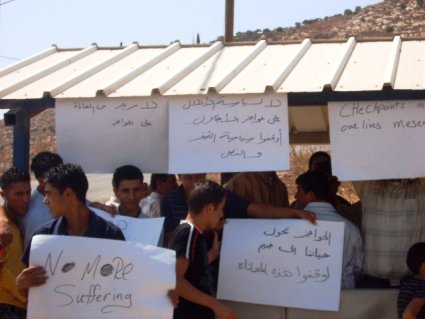 The village of Beit Furik is strangled by checkpoints, settler-only roads and settlements. In order for the villagers to cross into Salem village, the neighboring town, they have to cross through a checkpoint. When this checkpoint is closed, and the local roads blocked, the residents of Beit Furik are forced to travel in a wide arch in the opposite direction to their destination. Travelling through nine villages on a rocky dirt-track that is nearly impossible to navigate by car in the winter months, it might take up to five hours for villagers to reach Nablus. There is also a high risk of being stopped by soldiers and arrested or turned back.
These restrictions of movement are devastating for Beit Furik's social, economical and political situation. Yet the residents of Beit Furik are defiant and view today's demonstration as the first of many similar acts of protest. They welcome all expressions of support and solidarity for their struggle for freedom of movement.