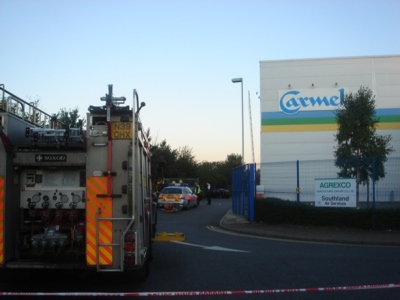 FOR IMMEDIATE RELEASE
Early Wednesday morning Palestine solidarity activists blockaded the Israeli company Carmel Agrexco's British headquarters. This was part of a non-violent protest against recurrent breaches of human rights and international law in the Israeli occupied territories of Palestine.
Carmel is complicit in war crimes under the International Criminal Court Act 2001 (ICC Act). They import fresh produce originating from illegal Israeli settlements in the Occupied Territories.
The action follows a legal warning letter to Carmel stating clearly why they are in breach of the law.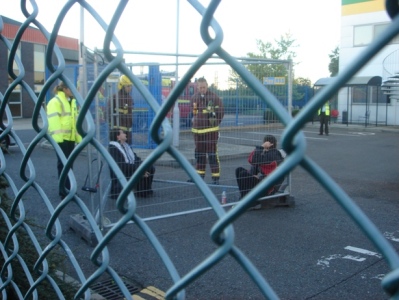 The action took place at Agrexco UK, Swallowfield Way, Hayes, Middlesex, Israel's largest importer of agricultural produce into the European Union. It is 50% Israeli state owned.
Protestors used wire fencing and bicycle D-Locks in a well planned blockade at the two entrances to the building.
Before taking part in the blockade, many of the protesters had witnessed first hand the suffering of Palestinians under Israeli military occupation.
This follows on from an action of 11th November 2004, when seven Palestine-Solidarity protesters from London and Brighton were arrested after taking part in a non-violent blockade outside the same company.
Last September a Judge ruled that Agrexco (UK) must prove that their business is lawful. The acquittal of the seven activists before they were able to present their defence meant that the court did not have to rule on the legalityof Agrexco-Carmel's involvement in the supply of produce from illegal settlements in the occupied territories.
Today's blockade aims to draw attention to this company's complicity, in murder, theft and damage of occupied land, collective punishment, apartheid and ethnic cleansing, and other breaches of International Law.
Links:
Text of letter sent to Carmel Agrexco
Report on Carmel's Involvemnt in the Jordan Valley
Press release from previous trial