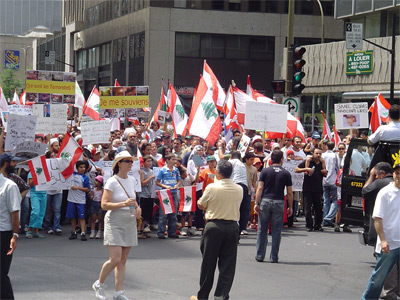 For more pictures from Montereal rally please click here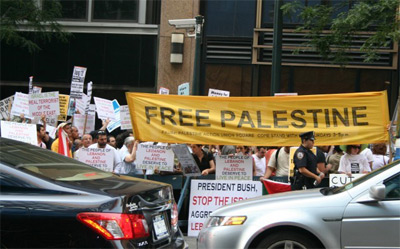 NYC Rally
As Israeli attacks on civilians continue and escalate day after day in Lebanon and Palestine and as the world's governments support Israel's crimes or, at best, turn a blind eye to its actions it is time for the people to speak.
Saturday July 22, 2006 has been declared "International day of action against Israeli aggression". We call on people around the world to rise up on that day and be heard.
Please organize an action in your city or area on that day, under the banner of the "International day of action against Israeli aggression". If you already have something planned for that day condemning Israel's actions or in support of the people of Palestine and Lebanon, please link it to the international action.
Each city area is requested to appoint one coordinator (or more) and send us their email addresses to create a coordination list.
Please act now. There is no time to waste. Thank you.
Montreal coordinators:
Mohamed S. Kamel (mohamed@btceramique.com) +514.863.9202
Ehab Lotayef (ehab.lotayef@mcgill.ca) +514.941.9792
Further information: http://tadamon.resist.ca/
The "International day of action against Israeli aggression" is endorsed
in Montreal by the following organizations:
Association des jeunes libanais musulmans
Canadian Muslim Forum
Coalition against the Deportation of Palestinian Refugees
International Solidarity Movement Montreal
Members of the Lebanese Diaspora
Members of the Palestinian Diaspora
Palestinian And Jewish Unity (PAJU)
Parole Arabe
Presence musulmane Montréal (PMM)
Solidarity with Palestinian Human Rights (SPHR)
Tadamon! Montreal
Voices of Conscience (OCVC)
Le Regroupement des Algeriens du Canada
Solidarity Across Borders
No One Is Illegal-Montreal
Canadian Muslims for Jerusalem (CMJ)
More Actions Over The Globe

1500 New Yorkers Demand End to Israel's Attacks on Lebanon and Palestine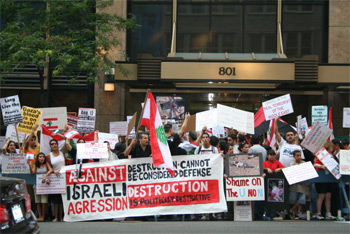 FOR IMMEDIATE RELEASE
July 18, 2006
New York, NY – 1500 New Yorkers packed the city block opposite the Israeli Consulate in Manhattan today, chanting and waving Lebanese and Palestinian flags. This was the third in a series of growing protests in New York City over the last two weeks. The protests have been organized by an ad hoc New York coalition against Israeli aggression. Protesters demanded, "Stop bombing Lebanon." "Free, free Palestine," and "End the occupation now." They chanted, "No justice, no peace, US out of the Middle East." Speakers called for an end to the US and Israeli wars in the Middle East. They criticized the US' one-sided support for Israel, and the lack of media coverage of Lebanese and Palestinian civilian deaths. The demonstration concluded with a spirited march past Grand Central Station and into Times Square.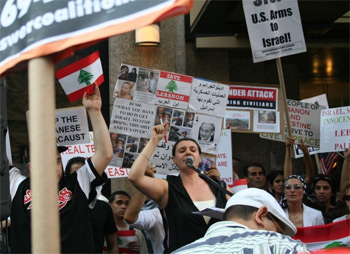 Israel's attacks on Lebanon are a disproportionate "response" to the detention of two Israeli combatants. Israeli bombing has killed over 230 Lebanese people, including entire families, and many children. They have destroyed Lebanese ports, roads, bridges, power plants, apartment buildings, and Beirut's International Airport. In Gaza, Israel has killed more than 90 Palestinians in two weeks, bombed Ministry buildings, roads, homes, and jailed Palestinian Cabinet Ministers. This has plunged Gaza's 1.4 million residents into a humanitarian crisis, with little access to electricity, water, medical supplies and food. Israel's actions have been widely criticized by human rights groups and the UN.
Issa Mikel, a spokesperson for the ad hoc coalition against Israeli aggression, said, "Israel must be held accountable for its grave violations of international law, reminiscent of those of the South African apartheid regime. For peace, based on justice, we call on international civil society organizations and people of conscience around the world to carry out broad boycotts, implement divestment initiatives against Israel, and demand that their governments impose sanctions on Israel until it ends its apartheid system, respects the sovereignty of its Arab neighbors and the right of refugees to return to their homes and lands, and fully complies with international law." The protest organizers vowed to maintain the pressure with continued demonstrations in New York.
Endorsers of today's demonstration included:
The National Council of Arab-Americans
– New York, International Solidarity Movement
–NYC, the New York Campaign for Boycott, Divestment, and Sanctions, ANSWER Coalition, Campus Anti-War Network,
American-Arab Anti-Discrimination Committee – ADC NY,
International Socialist Organization,
United for Peace and Justice – NYC,
International Action Center,
US Campaign to End the Israeli Occupation,
The Party for Socialism and Liberation,
Women in Black Union Square,
Jews Against the Occupation – NYC,
West Queens Greens, and Sunnyside Woodside Peace.
For information contact: protectpalestine@gmail.com
protectpalestine@gmail.com
Boycott Israel to Stop its War Crimes in Lebanon and Gaza!
For immediate release:
Palestinian Civil Society Campaign for Boycott, Divestment and Sanctions(BDS) against Israel — Acting Steering Committee
18 July 2006
Over the past six days since it launched its devastating military aggression against Lebanon, ostensibly in retaliation for Hizbullah's capture of two of its soldiers, Israel has committed war crimes that should be more than sufficient to invite at least unequivocal condemnation from the United Nations and world powers, with their stern backing for an immediate cease-fire. Instead, the US have allowed Israel ample time to "finish the job," destroying Lebanon's infrastructure and killing and maiming its civilians to a degree that would turn the Lebanese public against the resistance movement and bolster Israel's designs for pushing this resistance outside of southern Lebanon. Even Israel's reported use of the internationally-prescribed phosphorous bombs and its massacre of at least 23 fleeing civilians in Marwaheen on Saturday failed to shake the world's conscience or to break its deadly silence.
Meanwhile, Israel's almost forgotten attack on Gaza continues unabated, with total impunity, leaving behind an imminent health disaster and widespread destruction of vital infrastructure. Again, the pretext that all this criminal devastation, which already caused the death and injury of hundreds of innocent Palestinians, was intended to win the release of one Israeli soldier captured by Palestinian resistance, does not stand the test of reality or logic. The truth is Israel is systematically and with premeditation trying to bring occupied Palestinians to their knees, to punish them for democratically electing the "wrong" government. Israel looks to bring about their acquiescence to its plans for further dispossessing them and forestalling any prospects for a sovereign Palestinian state emerging in the occupied territory.
There is a new double-failure by the international political system to hold Israel to account for its grave violations of international law on both fronts. This is the most recent indicator of the urgent need for international movements to take the lead in applying a comprehensive regime of boycotts, divestment and sanctions on Israel. Actions need to be taken that are similar to that successfully used to end apartheid in South Africa. Specifically, people of conscience everywhere are called upon to:
– boycott all Israeli products and services;
– boycott Israeli academic, cultural, athletic and economic institutions;
– pressure unions, professional associations and civil society organizations to divest from Israel;
– pressure governments to stop all military trade with Israel, as a first step towards adopting total sanctions against it.
All these measures should be maintained until Israel fully complies with international law and respects fundamental human rights of Arabs, whether in Lebanon or Palestine.
Israel's criminal dehumanization of its Arab victims, whether in Lebanon or Palestine, should not go unpunished. Only boycotts, of all sorts, against Israel have any chance of fostering hope for a just peace in the Middle East.
Contact: On behalf of the Palestinian BDS Campaign:
info@BoycottIsrael.ps ,
Ittijah@Ittijah.org