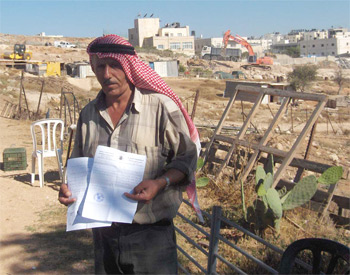 Documents granting the Bedouin the right to the land
Today Bedouin houses were under threat of demolition in Bir Nabala village in the Jerusalem area. Since 1994, when forced to leave their homes in Al Ram by the Israeli military, about 100 Bedouin have been living in small shanties near the Atarot Industrial Area. The homes of these refugees are once again facing demolition due to the Israeli expansion of the annexation wall, where the Israelis claim 200 meters of free space are necessary to secure the area.
The Bedouin here are already facing numerous problems with the annexation wall. The construction of the wall has cut water pipes to their homes. In addition, the wall severely hinders their movement as they have to cross into Jerusalem to work and sell their products, but are forced to go through Ramallah and the Qalandiya Checkpoint. If they are successful in crossing, these checkpoints can cause major delays. The Bedouin children are also forced to take the same circuitous and road-blocked routes to get to their school. The soldiers guarding the wall often will not let sheep herders go out to hills for grazing. The situation with travel is compounded by the fact that Israeli factories in the industrial area are draining their sewage water next to the Bedouin homes (see photo below).
Bedouin in the West Bank are forced to move again and again by the Israeli Military and it is nearly impossible for them to get permission to stay anywhere regularly. This threatens their culture and economy which is largely dependent upon grazing. The water and air pollution from the factories as well as the wall is undermining dairy production and will make Palestinians even more dependent on Israeli products.
The Bedouin in Bir Nabala hold documents granting them permission from the Palestinian land owners to stay in the area (see above). They have taken their case to the Israeli court which today, while the Bedouins stood by fearing destruction of their homes, ruled that they could remain temporarily. Even if they court rules in their favor, the community faces a future completely surrounded by fences and soldiers effectively strangling the Bedouin way of life.