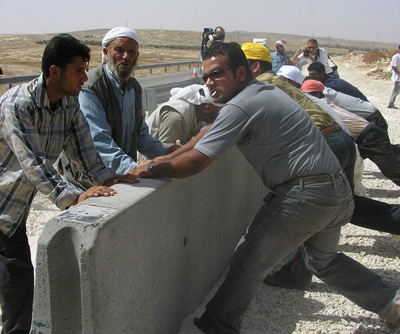 Qawawis, 4th June 2006: About thirty inhabitants of the small Palestinian village of Qawawis and the neighbouring villages of Jatta and Al-Twane gathered in Qawawis this morning at around 9 am. They were joined by three internationals from ISM and CPT as well as several journalists. All were assembled in opposition to the construction of a meter-high wall on the nearby settler-only road that building started on last Wednesday, and was due to be completed this morning. The demonstrator's demand was a gap in this wall, to make it possible to pass through to the village by car and to reach their farming land on the other side.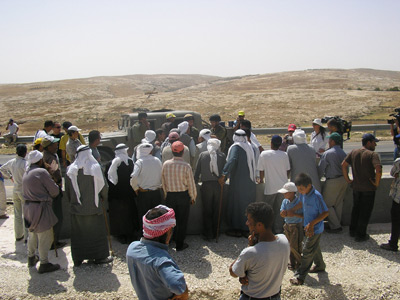 The group went to the road and positioned itself in the work area, preventing continuation of the building. At that time no army was present, only the workers, so a villager from Qawawis tried to talk to them to convince them to leave their work. After around 15 minutes the first army jeep arrived and the soldiers asked the demonstrators to leave the area. They were not prepared to debate with the villagers and threatened to use violence if the people continued hindering the work. Over the next half an hour, three more army jeeps and two police cars arrived. The demonstrators held firm in their places while some were trying to negotiate with the soldiers. One soldier and a police man were videotaping those gathered in the demonstration, and police men were taking passports and ID cards of some of those present.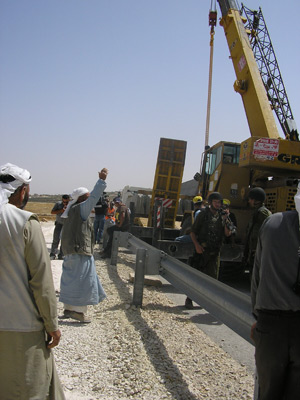 After some time, the responsible officer agreed after negotiating with Moussa Abu Maria, a Palestinian activist in the Hebron region, that there will be an opening left that allows passing through.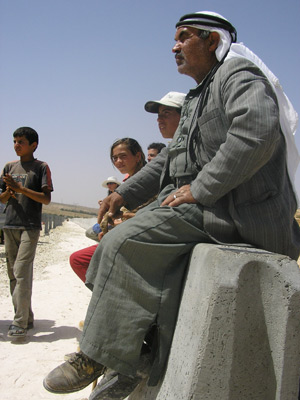 Altogether the group hindered the continuation of the construction for about three hours, until around 12am. Afterwards we could see the army jeeps driving around nearby and soldiers harassing people who were on their way back from the demonstration.