From Ynet
By Ali Waked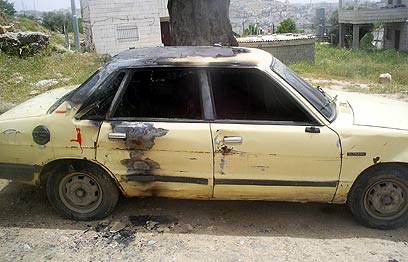 Car torched in Tel Rumeida. 'This is not a life,' residents say (Photo: ISM)
Residents of Hebron neighborhood claim settlers set fire to three Palestinian vehicles, beat several residents; 'this was not a one-time incident,' says Rajab Abeido, whose car was burned
Palestinian residents from the Hebron neighborhood of Tel Rumeida claimed that settlers, who flocked to the city Saturday night ahead of the evacuation of a Hebron house by the IDF, set fire to three of their cars. Earlier, the Palestinians said, the settlers also beat several of the neighborhood's residents.
According to the residents, the incident was not a one-time harassment, but rather a phenomenon they have been suffering from for a long time now.
Rajab Abeido, the owner of one of the torched cars, told Ynet that he returned to his home at around 9 p.m. Saturday evening after spending the evening with his son. The son, Abeido said, broke his hand while being chased by settlers.
"The settlers rioted in the neighborhood all day. In one of the incidents, a group chased my 8-year-old son Hassan and wanted to hit him. While escaping, he stumbled upon a stone and broke his hand. We spent the entire evening at the hospital and prepared the report which I planned to submit to the police today," he said.
Soldiers 'settle in'
But according to Abeido, the day's troubles had only begun. A short while after entering his home and sitting down for dinner, one of his neighbors knocked on the door and told him that "settlers are setting fire to three vehicles in the neighborhood, including my car."
"We immediately went outside and tried to put out the fire using everything we could get our hands on, but the damage was already done – my car was completely burned, and to tell you the truth, it wasn't insured."
Abeido's neighbor told Ynet, "a group of settlers, standing not far from soldiers securing the site, poured flammable material on cars and set them on fire."
According to Abeido, the incident was not the first in which settlers harassed him.
"Every few days they come into our home and beat me and my family up. But the bigger problem for me is the soldiers – they come in every few weeks, send the entire family to a room and 'settle' in the home. When I ask them 'what do you want?' they say 'we have work to do; (military) duties'," he charged.
"Each time I try to explain to them that 'this isn't (Ariel) Sharon's home, nor is it (Prime Minister Ehud) Olmert's. Carry out your military duties wherever you want, but not in my home, not near my wife and children; this is not a life'," he concluded.