by Lee and Zadie

Settler carries gun as they bike through Beit Omar
Last Thursday, May 24, we visited Beit Ummar, which is a village of 20,000 just south of Bethlehem's large settlement block that includes Gush Etzion. The main road, route 60, connects Bethlehem to Hebron and goes right through Beit Ummar. It is not a settler-only road, but because there are settlers near both Hebron and Bethlehem, they also use this road. The Border Police and Army use their duty to protect these settlers as an excuse for confiscating land along route 60 and destroying property.

Before the flower shop and grocery were destroyed

We visited two groups of people whose livelihoods have been demolished by Israeli military bulldozers the night before. The military has issued demolition notices to all the business and homes 150meters from this road in Beit Ummar, saying that they needed to protect the settlers and these buildings posed a security risk. They also accused them of building without a permit, which in some cases is true because Israel rarely grants permits to Palestinians even on land that they own.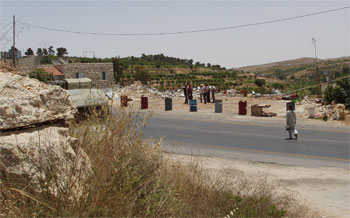 After the bulldozers came
The IDF chose to bulldoze a flower shop with a small grocery and a mechanics shop a day before. At the flower shop, ceramic pots and flowers lay in the midst of rubble from grocery shop while back at the owner's house, plants that the guy had managed to salvage lay out in the sun wilting for lack of water and cover. Habess Shehdah Adami, the owner of the land and shop lamented, "I see them dying in front of my eyes and I can't do anything. In 5 hours these will be dead. What can I do? They cost thousands of shekels. I can't cover them, I can't irrigate them, I can't sell them."
And then he added, "What did I do? I've never been arrested. I am a man of peace. I am a romantic man. I love flowers. Even if they can't make good to me, they should make good to the trees, to the flowers. They are a gift from god!"
Habess had papers proving that he owned the land and had a permit to build. When the bulldozers came in the night, however, and he told the commander of the 60 soldiers who showed up that he had a lawyer, the commander told him, "Let your lawyer sleep" and then proceeded to level the building.
As we stood near route 60 on the rubble in his lot brooding and feeling helpless, three army jeeps drove by heralding the approach of about 200 settlers on bicycles. It was the holiday of Jerusalem Day, which is the celebrates the capture of Jerusalem in 1967, and entails parading through Arab neighborhoods in Jerusalem wearing Israeli flags. These settlers wanted to do some parading of their own, donning the Israeli flag and something not as accepted in Jerusalem: there were about three of the young guys wearing M-16, army issued, strapped to their backs. Some young women yelled at us and the Palestinians, "You are all donkeys!" and we laughed, because of the way she acted, it seemed obvious and pathetic that she was scared of us even though we just stood there.
The settlers are like a branch of the military, their presence makes it easier for the military to be there and their undercover violence towards Palestinians is unchecked by the military.