by Sam Bahour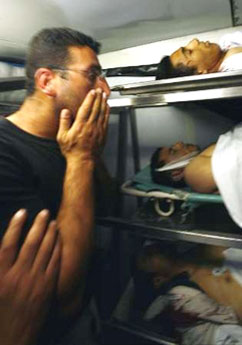 Last Wednesday, the victims were: Milad Abu-Aris, Jaafer Khaled, Aysar Kasam and Ra'ad Rabah.
As I write, I can hear heavy and loud gunfire coming from the Al-Amari Refugee Camp next to our home. It is the funeral for one of the 4 Palestinians that were murdered by the Israeli military yesterday. He lived in the camp. I can hear the wailing of the family as the body is brought home for the family to bid farewell to their fallen loved one. This is extremely difficult! Hundreds of demonstrators are chanting, "To the checkpoint, To the checkpoint," which is exactly how the 2nd Intifada started: an accelerated deterioration of events, one funeral after the next. Ramallah/El-Bireh were closed today in protest of the rampant Israeli killings.
I'm off to bury our fallen, all in their 20's… I'm hoping not to repeat today, tomorrow.
The caption for the attached photo is: "A man prays next to four dead Palestinians in the morgue of the hospital in the West Bank town of Ramallah, May 24, 2006. Israeli troops killed four Palestinians and wounded at least 50 others on Wednesday in clashes that erupted during a rare daylight raid on the occupied West Bank's main city, witnesses and medics said."