FOR IMMEDIATE RELEASE
The Israeli Army has threatened human rights workers in Hebron with further expulsions from the H2 zone, near the Old Souk (market). The activists from the International Solidarity Movement (ISM) and Tel Rumeida Project (TRP) have a small apartment in the zone, which is under Israeli Army control. The H2 zone is right in the middle of the historic old city, where militant Jewish settlers have established two illegal settlements. Six human rights workers were expelled last night.
Tension has been building throughout the Jewish Passover Holy period, when the settlers receive thousands of visitors, who share their belief that Hebron, with its population of over 110,000 Palestinians, should be an exclusively Jewish city.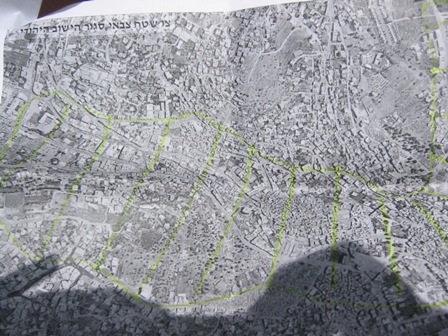 Map that accompanied the exclusion order, showing prohibited zone.
The exclusion order permits the army or the police to detain, arrest, or expel any individual or group who is disturbing public order, or trying to disturb public order. The exclusion order came into effect at 8:00pm on the 16th April, and expires at midnight on April 18th, although soldiers have told the activists that they are applying to have the original order extended, or a new order given.
The human rights workers attempt to monitor and protect Palestinians who live and work close to the illegal settlements in the H2 zone. The settlers of Hebron are some of the most militant and violent in the entire Occupied West Bank. Numerous attacks on Palestinian adults and children have been reported, and the settlers often act with impunity. Police and army in the area are reluctant or very slow to intervene even in cases where attacks take place right in front of their positions.
For now, the human rights workers remain in their apartment, but are determined to stay and monitor the situation. They will attempt to intervene if asked to do so by Palestinians, or if they see a settler attack taking place.
For more information call:
Brian (Tel Rumeida Project): 054 734 3298
Anna (ISM): 054 304 5205
ISM Media office: 02 297 1824 or 057 572 0754