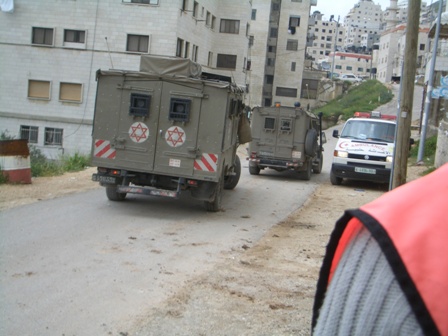 By Lee
At approximately 11:00am the Army arrives at Tel street in Mafea Area of Nablus.
Military Operation to search the 5 story Aljhe building, likely used by students at nearby al-Naija university, and possibly to arrest some occupants. Four jeeps in attendance.
Soldiers arrived and used live ammunition from the start. Youth stone throwing at jeeps from surrounding buildings and adjacent road thats 30m higher.
We arrive at 11:45. Timeline as follows: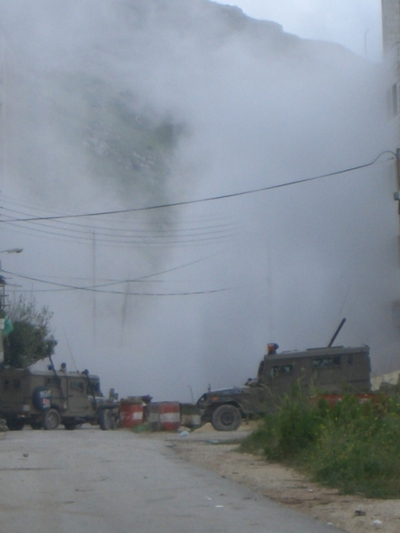 11:56- Smoke bomb set off outside building. Obscures view
12:00- Jeep drives from outside building and moves 20m next to ambluance
Uses it as cover from stones
12:06- Smoke clearing from outside building
12:07- 2 soldiers enter building (more could have entered when view obscured by smoke)
12:09- Smoke pouring from 2 & 3 storey windows of building. Something said over one of jeeps loudspeakers
12:17- 2 jeeps have returned. 4 jeeps again in total
12:23- Smell of tear gas coming from building, smoke still coming from several windows, but concentrated on 4th floor
2 soldiers exit building & return to jeep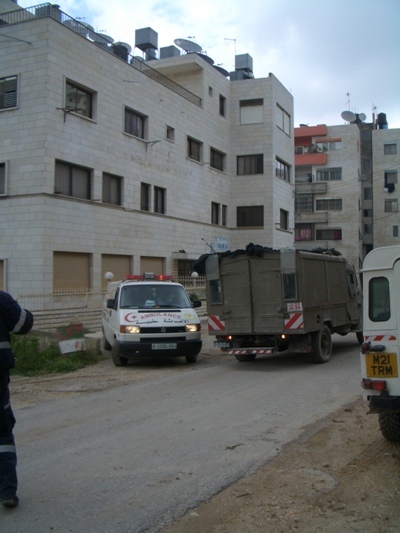 12:35- 3 jeeps drive from building and move 30m to ambulance. Stone throwing recommences, hitting ambulance and jeeps. One then drives on and pushes aside makeshift barricade (metal wheelie bin & rubbish). 2 others follow. then final jeep drives from building
12:37- enter building with ambulance crews. Its full of smoke and tear gas. 1st and 2nd story doors are open and rooms are empty except for smoke and soot on the floor. 3rd story doors still closed. 4th story doors open but impossible to see inside – too much smoke & gas and its painful & difficult to breathe. Head a bit dizzy. Need to breathe out of windows on the stair landings. Remove window panes with ambulance crew to let more smoke out. Grab some pics – not sure if any good. After maybe 7 minutes, fire brigade arrive and man in breathing apparatus ascends stairs. i gotta leave, feeling ill. Take pics of fireman and rush outside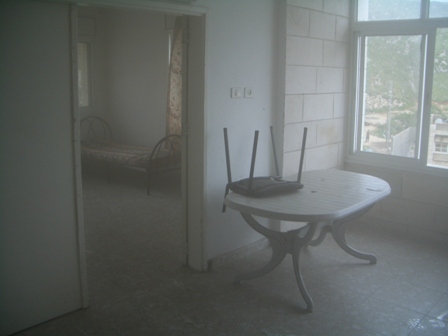 12:50- Fire brigade begin hosing down building to wash away soot and clear smoke. Oh, and ive got a headache and painful breathing, serves me right!
Not sure if anyone was living in the apartments as all looked empty but if they were, they wont be able to live there for a few days, place is a total mess
12:52- residents, media and ambulance crews all say that no one was arrested. Just no way anyone could have stayed in the building through the operation thats a fact
Epilogue: Last Night: 7 were arrested from Askar refugee camp. Army attacked at 02.00 and left and 07.00. 3 arrested from Nablus including 50 yr old woman Wafiqa Adela.