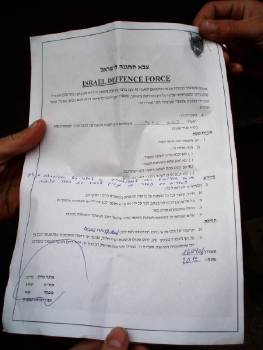 FOR IMMEDIATE RELEASE
The phenomenon in Hebron of Jewish holidays being used as an excuse for widespread harassment and violence against Palestinians is set to continue today as the Israeli military evicted international Human Rights Workers (HRWs) from the area. Up to 10,000 settler supporters are said to be visiting the Old City of Hebron today for the Passover holidays. The Israeli military last night declared Tel Rumeida and the Old City a closed military zone in anticpation of this. This order is not being selectively enforced on HRWs, giving the settlers and their supporters free reign of the supposedly "closed" area. The few remaining HRWs in the area are confined to their apartment because of the closed military zone. Widespread harassment and attacks on Palestinians have occurred during such supposedly religous events in the past. As well as the regular attacks and harassment that happen every Shabat (Saturday), an event organised by Hebron settlers back in November 2005 was advertised as a "mass prayer" (for Jews only) – it led to a hostile, stone-throwing mob of between 100 and 150 settlers and their supporters besieging Palestinian families and HRWs in their homes.
This morning, the military physically forced seven human rights workers off the streets where they accompany Palestinian schoold children on theri way to school. They were forced past the Tel Rumeida checkpoint into the H1 area of the city. The soldiers presented a copy of the closed military zone order in Hebrew, with a map specifying the Old City and Tel Rumeida areas. The settlers of Tel Rumeida are notorious for their harassment and attacks on Palestinian residents.
An Israeli soldier who did not give his name was quoted by a Tel Rumeida Project volunteer estimating that "10,000" settler-supporting visitors will be coming to Hebron today. The closed military zone order reads in Hebrew: "any solider or police man may arrest any person or group of people that are disrupting the public order or trying to disturb the public order". Yesterday, hundreds of settler supporting visitors toured around the Old City in groups of 20 or 30.
For more information call:
Brian (Tel Rumeida Project): 054 734 3298
Anna (ISM): 054 304 5205
ISM Media office: 02 297 1824 or 057 572 0754