by Henry
The weekly non-violent protests against the Israeli Apartheid wall continued this Friday in Bil'in, with Palestinians from the village uniting once again with Internationals and Israelis in a display of resistance to the ongoing theft of their village's land. Today's demonstration featured a large tomb which symbolized all the people and villages that are being killed by the wall. Written on it was "RIP, Victims; Villages who's land was stolen, Reason; The Wall and the Occupation, Year 2006."
The demonstrators proceeded to the wall site, where the soldiers quickly destroyed the tomb, using sound bombs at very close range to the crowd. The Israeli, International and Palestinian demonstrators refused to leave the area and resisted much violence by the Border Police and soldiers in doing so.
Israeli Military seen destroying the tomb
Within an hour's time, two Israeli protesters were detained, and the Popular Committee Members asked everyone to begin returning to the village, where another group of soldiers were advancing into the village, firing tear gas and rubber bullets.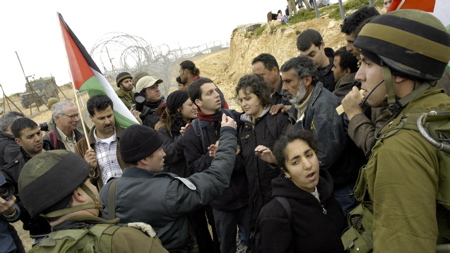 By forming a line between the Palestinians, the Internationals and Israelis were able to help prevent a Border Policeman (who was using the retreating people as cover) from arresting a young Palestinian child. The crowd then returned to the wall site in defiance of the Israeli Military forces, extending the protest.
When the demo by the wall finally ended, the activists were able to use their presence to help remove the soldiers from the village, where they were inciting stone-throwing by the village youth, but only after firing over 20 tear gas canisters in rapid succession.
Abdullah Abu Rahma, coordinator of the Popular Committee Against the Wall, states "the presence of the army is provocation, their checkpoints, wall, settlement activities and land grab are direct violations to our rights, and the international law", Abu Rahma added, "We have a protest center behind the Wall, we always protest peacefully there, we have the right to resist the occupation and to resist the land expropriation policy practiced against us".
The people of Bil'in are using the symbols and language employed by Israel for the theft of Palestinian land in a bid to hold onto village land that Israel is attempting to annex for the Wall and settlements. The Israeli government's efforts to remove the Palestinian outpost contrast starkly with Israeli government's support for the establishment of hundreds of illegal Israeli settlements and outposts throughout the West Bank. Approximately half of Bil'in's lands are being isolated from the village by the Wall. The village will lose at least 1,950 dunams if the Wall is not removed.
The struggle of Bil'in has been going on for over a year, and their will to resist the Occupation and the Apartheid Wall has not diminished. The International Solidarity Movement (ISM) is calling for volunteers to come to Palestine and continue our support of Bil'in's non-violent resistance during ISM's Spring and Summer Campaigns.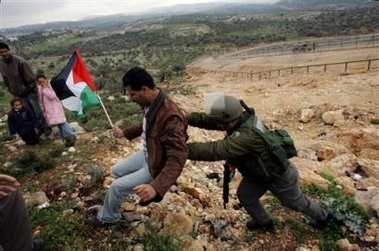 Photo: AP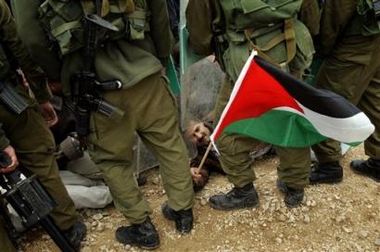 Photo: AP

(AP Photo/Emilio Morenatti)