July 4 | International Solidarity Movement | South Hebron Hills, occupied Palestine
The South Hebron Hills have faced two consecutive days of demolitions starting early yesterday morning, with bulldozers destroying water wells and uprooting over 500 trees in two villages.
An elderly Palestinian activist from Um al-Khair was also hospitalised yesterday after being violently detained by occupation forces.
Five JCB bulldozers accompanied by Israeli Civil Administration vans began uprooting trees – some of which were over 14 years old – and demolishing water wells in a public park between the villages of Hashem Daraj and Um al-Khair at around 9am yesterday morning.  
70-year-old man Hajj Suleiman, was aggressively dragged out of the road, where he had tried to stand in the way of the bulldozers, by soldiers and pushed to the ground. He was later seen unconscious before being taken to hospital for medical attention.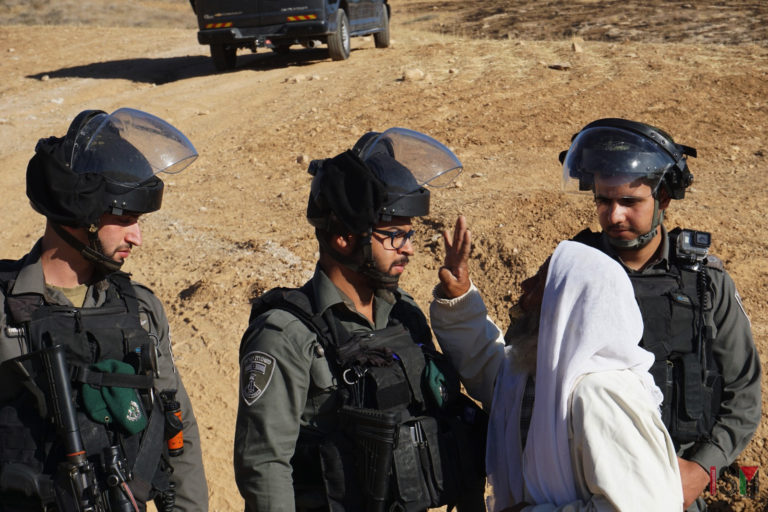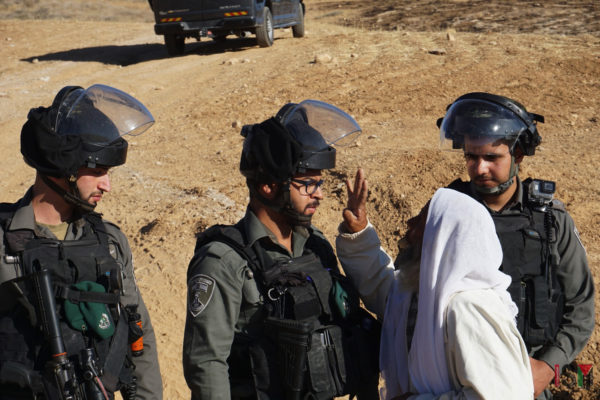 Some hours later, the village elder was discharged. Despite his ordeal, Suleiman was back the next day to try to disrupt the violence of the bulldozers. He was briefly detained again before being driven in a military jeep to Um al-Khair in a attempt by soldiers to prevent him carrying out further direct actions.
His nephew Tariq described yesterday's demolition spree by the Israeli Civil Administration – the body that governs Area C in the West Bank – as "brutal."
"They don't leave anything alone," he told ISM. "They demolish the peoples houses, they demolish the animal barns and now they're starting from this year to demolish trees and water cisterns."
The park, which is now a heap of uprooted trees, was one of the few public spaces belonging to Palestinians in the region.
This morning, the bulldozers came again, destroying two water cisterns and uprooting more trees in Dkeika, a village close to the West Bank border.
The cisterns are vital during the summer months for shepherds to graze their sheep and goats.
While the villagers' resources were being demolished, a drone belonging to far-right Israeli NGO Regavim was documenting the scene. The group, which receives Israeli taxpayers money, is dedicated to evicting Palestinians from Area C and within Israel through court petitions. It's likely they played a direct role in the two day demolition spree. 
Many Palestinians in the South Hebron Hills, which is located within Area C, live with the constant threat of having their homes, water systems, roads and farms bulldozed by the Civil Administration. 
Structures built by Palestinians in Area C without building permits (less than 1% are approved by the Civil Administration) are served demolition orders while illegal Israeli settlement outposts have free reign to build with impunity.