7th December 2018 | International Solidarity Movement, Nablus Team | Deir Samaan, Salfit, occupied Palestine
In the area of Salfit, harassment by settlers is a regular occurrence. They come to the villages, often late at night, to graffiti messages of hatred, and also vandalize cars and property. New settlements are being established frequently and are rapidly expanding.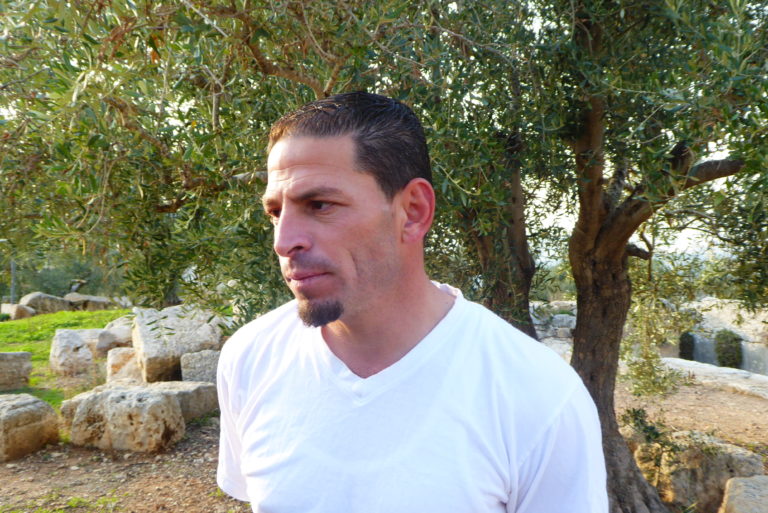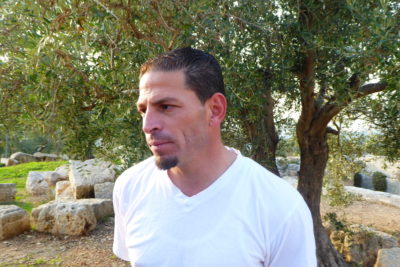 Farris is a university teacher living in the village of Kufr al-Dik.  He drove us to his land of Deir Samaan, a beautiful olive grove with panoramic views, and a complex of Roman ruins at it's heart. It's only a stone's throw from his village, but we had to drive 15 minutes extra, as the occupation's gate to the village's main entrance has been closed for three weeks. This is a common practice of collective punishment inflicted by the army. Farris and the rest of the village were perplexed as to why they were being "punished" just now.
Up until now, it's still possible to access Farris' land, but one must pass the brand new constructions of Leshem, and an array of JCBs and cranes.  Leshem appeared in 2010, and now hugs the west edge of Deir Saaman.  It is the newest of many illegal settlements that now surround him.  This year a further 1200 units were added.
"Leshem means Holy Rock in Hebrew.  I think they used this name because I have a Roman castle on my land.  They used bombs, a lot of bulldozers, and a lot of time to build Leshem.  Construction has been constant since 2010 until now, and I suffer for this.  There is a lot of dust because of this, so during the olive harvest I cannot collect the olives until the rain comes."
Alei Zahhav, a settlement on the East side of Farris' property, was established in 1983.  It has now joined up with Leshem to the North, creating a large crescent of houses that have eaten into his land.  "On the other side of the settlement, I have another piece of land with 300 olive trees.  Now, because of the new constructions, I cannot come to my land because the road was closed.  I need to go around the whole valley, and then more than 3km off road, through the valley, which is very bad for the car.  So a lot of time is wasted and I have to get a tractor which is expensive."
He tells us that another huge impact from the Alei Zahhav settlement is the emptying of its sewage directly into the fields, which runs down the valley into his land.  "Aside from being disgusting and affecting the trees, it is attracting many wild boars which are destroying everything I plant."
In the midst of the interview a Settler nonchalantly strolled through the middle of Farris' private property.  Farris tells us that many of the ornately carved Roman stones have been destroyed by settlers. They often enter, vandalize the ruin, and also swim in his well occasionally.
The crescent has now expanded around to the South side of the property, with a new double fence, only a few weeks old, completely surrounding him. He was recently notified that he'll soon be locked out from his olive trees and will have to obtain permission from the Israeli military to pass through. Based on previous cases, it's likely he'll only get permission for a few days a year to harvest olives.
"I opened a new agricultural road to come to my land because they destroyed the previous one. Now they've constructed a fence, which means that I will need a permit to come to my land. I have here 170 olive trees, and I recently planted 200 trees of other kinds. The restrictions mean these will be destroyed."
"Israel is annexing everything from the green line to the Jordan Valley. That is a big finger which cuts across the middle of the West Bank" he explains.
It's clear that the settlements are being strategically planned and positioned.
"If you go to the high mountain and look around, to the West you will see Kafr Qasim, that's the green line. From there the Israelis put settlements as a finger in the middle of the West Bank. All the mountains in that line have settlements on top, and they're near to each other. If there is an Israeli city in the middle of the west bank there is no state of Palestine."
There are now 24 settlements in the Salfit area and only 18 Palestinian villages. Ariel, at the top of the valley from Farris' land, with a population of around 20,000 is one of the largest settlements in the West Bank. "They want to make Ariel a city, all the settlements you can see refer to Ariel".
Just bellow Ariel is a huge Israeli industrial area called Barkan. Palestinians have suffocating restrictions on what they can build. For example, they are prohibited from building industrial facilities. Whereas Israel has managed to flaunt International laws, and even Israeli laws, to establish these massive industrial zones, thus giving Israel evermore control over the region, and the Palestinian natives.
Barkan employs many Palestinians. At a time when unemployment is very high in the West Bank, the Palestinians take the work out of necessity, receiving much lower wages than their Israeli colleagues. Working for your illegal occupier is beyond humiliating, and gives rise to intense frustration. It's not surprising that this forces people over the edge at times.
For land owners there is not always a choice. The accumulated obstructions and violent interventions take away the capacity to earn a living, forcing younger generations into accepting the low wages at Barkan. Traditional ways of village life are eroded, land is left untended, and therefore open to settler land-grabbing, as per Israeli law, and against international law. The objective is obvious, frustrate the occupants into leaving, or act out so as to be thrown into prison or worse, leaving the land empty.
Sewage and waste from all settlements, and the Barkan industrial complex, is emptied on to the fields of Palestinian farmers. This is causing a big loss of income, there are also significant cancer clusters within the villages of the valley below.
"I hope the Israeli people change their government because their government are terrorists to the Palestinian people. They don't want peace, they lie all the time saying they do want peace, they lie about everything. They lie just to make the people keep wanting them. If the government wanted peace it would take ten minutes to do, we can start with 1967, but the Israeli government wants to take all of the land."