August 31st 2018 | Kristin Foss, International Solidarity Movement | Ramallah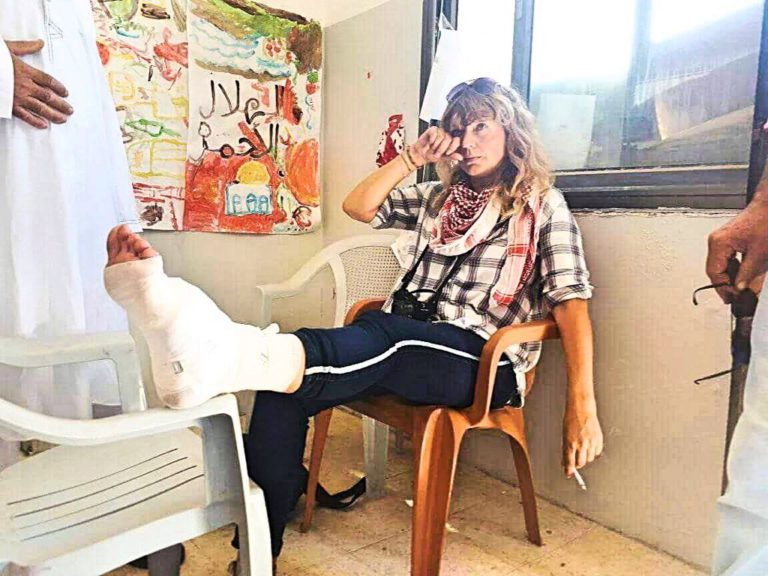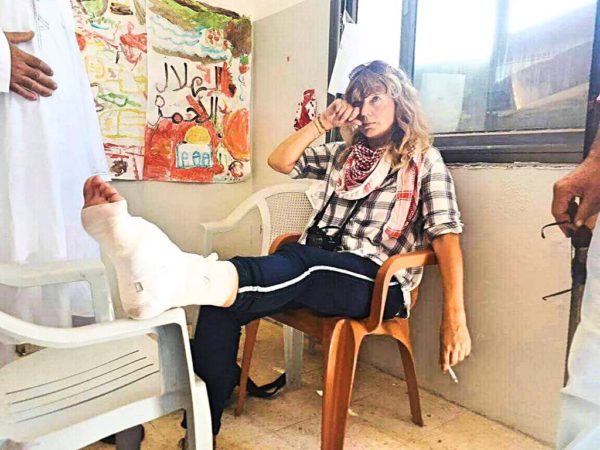 I woke up feeling sad today. I'm just so sad. I'm crying now, I started crying in the supermarket, I cried a little when a farmer refused my money for grapes. I think that today, I'm just going to cry. Maybe I need it.
Yesterday, I was called by a friend to ask if ISM could spare some people to come to a place I can't even remember the name of now. There are too many places, too much need for assistance. I wrote about it earlier though. Ras Karkar, the village is called. I remember now. The Israelis are going to build yet another illegal settlement there. Their village is already surrounded by three: in the North, in the South, in the East—and now the Caterpillar machines and the soldiers have arrived to block the West; to build yet another illegal settlement, trapping the villagers. It's illegal according to international law of course. But, what is international law? It doesn't apply in Palestine. The Israelis know it; they've never had to comply. The US has made sure of it, and the rest has accepted it.
The man who alerted me is my age; he has a professional job, a nice car. But he spends his free time alerting people, travelling to places where he is needed and getting beaten up by 20 year olds with machine guns. He does not get to go home and have a nice dinner with his wife or play with his kids. I guess he could. But then, will his kids even have a country when they grow up?
A man who is sending me live videos is my dad's age. I've been watching the videos, videos of normal people, new friends I have not even met yet, although I recognize a few. Normal people, being brutally pushed over by young soldiers from God knows where, but from this land they are not.
I've watched videos of men trying to push heavy machines with their arms. I can feel the desperation. I want to be there. But today it's only me here and I can't go alone. I guess I could, but I don't dare today. I need a time-out. Maybe my fear is stronger than my solidarity. I don't want to die.
Rachel Corrie died. She was in ISM too. I don't think she could have imagined that they would actually do it. That they would run her over with a bulldozer, as she was visible to all, standing in front of it, but they did. They killed her with a bulldozer. Her solidarity was stronger than her fear. The Israelis got away with it. They got away with it, and they call her Saint Pancake. She was 23, and they ran her over with a bulldozer for trying to stop a house from being demolished. She was American, and the US did nothing. Palestinians remember her still, with respect and dignity, gratefulness and immense sadness. The Israelis make fun of her. Most Americans don't even know her name.
I've been reading comments that people have left in the comment sections of interviews with me, some say "third time lucky," or "if she is there knowing the risks it's her own fault, she deserved it," etc. Then I think of what these same people say about my Palestinian friends: that they are an invented people, there was never a place called Palestine. If a nurse gets killed tending to the wounded, she is Hamas. If a school or hospital gets bombed, then Hamas was storing weapons there. If a child is murdered, his parents are using him for sympathy. It's inexplicably inhumane. I have never witnessed anything like this, people denouncing a whole people. It is so unspeakably evil. How does it feel for Palestinians to read this; to read that they don't even exist? To be faced with this evil? When all they did was to be born on their own land, and all they do is try to live under an inhumane occupation.
The thing is that the people who make these comments are the ones with the power. They are on the current winning side. Obama, Trump, Theresa May, Macron, Trudeau, Erna Solberg… these are the people that are on Israel's side, and pour money and support into its government. They have the power, they have the money, they have the media and they have the politicians.
My own government doesn't even care that five Norwegians were brutally beaten up, threatened with murder and arrested after being illegally boarded in international waters, or that I've been shot twice. I think they find us a nuisance. They blame us for being here; that we should not be here, that it's the Palestinians who need to reconcile. I don't even know what that means. They say that dialogue is the only way, and the Palestinians have to reconcile. There is no dialogue here, it's all pretend. There is only violence, oppression, murder, land theft and politicians keeping up the facade that there is dialogue, while the press helps keep this game of pretend going. The Palestinians must reconcile… I think they mean that Palestinians must forgive and forget, get on their knees and hand over the keys they have left. I asked the representative for Norway what they meant with reconciliation—she did not know.
But there is another side. On this side there are the Palestinians, the people of this land, and some of us, international and Israeli activists who stand with them in solidarity. All we have is truth, dignity and humanity. We have this, but no power, unless everyone gets involved. Now, after getting shot twice, they talk about me, only because I'm a European woman—and thank god I videoed it. There are so many, just so many who would speak better than me, Palestinians, whose fate is incomparable to what happened to me. I'm a bit ashamed, but I will try to use it. If they all got the attention I got, would people care then? I would like to think so.
I still believe in humanity. I don't believe there is any left in Israeli politics, but there is enough in Palestine to make up for their lack, when Palestine is free. But where is the global humanity, where are all those who say that we must never forget? Don't ever forget, but don't ignore what is happening now, because this too will have a horrible end if people do not react. This is not a history lesson, this is today and this can be stopped, before it becomes another shameful period of human history. Palestine can still be free. This cannot go on, it cannot!
Kristin Foss is an ISM volunteer who was shot twice in one week with rubber-coated steel bullets by Israeli soldiers in Kafr Qaddum. The first time with her hands raised, along with another female ISM volunteer from Iceland, and the second time while standing up against the wall of a shop. Below, see an interview with Kristin on Russia Today: