19th December 2017 | International Solidarity Movement, al-Khalil team | al-Khalil, occupied Palestine
Most of us are plenty used to absent minded scrolling our Facebook feeds. After all you can find just about anything you want and not have to read anything in particular. However, you can also come across a post saying that two kids have been arrested the day before in Al-Khalil, the city you're living in. It's a big city, but not enough to prevent you from seeking out the school and getting a direct report. If you have just come to Palestine for the first time, you might not believe such an egregious story, so trying to verify it for yourself is a natural reaction. Today, we decided to try. The post on Facebook said that the two kids were arrested in front of the school down by the Ibrahimi Mosque, so we decided to start from Ibrahim school. 
We reached the school around 11 AM, while many students were in the hall having their break.  Soon after, the headmaster joined us in his office, where an assistant had told us to wait. It was easy to read on his face how difficult it is to have his job at a school in H2 – the Israeli occupied section of the city, where illegal settler homes and those of native Palestinians exist side by side. The headmaster didn't waste time and after a polite welcome he asked us what we want to know. We didn't waste time either.: "We know that a student from this school has been arrested yesterday morning. Could you tell us more?"
"First of all, to be provided this information you must have a permission from the Ministry of Education," he clarified. It was clear he knew that letting the world hear the news of the mistreatment of his students was the right thing to do despite official protocol. "But," he continued on, "the situation is terrible here and we have big problems."
In a few minutes, he listed a series of problems. A few days before, a settler had thrown stones at some of the Palestinian students and followed them to the playground. Kids are scared by the checkpoints surrounding the school. One morning, a soldier suddenly blocked the turnstile and a boy was hit in his face. He arrived to school with a wound to his head and instructions not to tell anybody what had happened. The headmaster himself is checked every day.
"They check me every morning and I have worked here for years. They ask me to take off my belt and shoes. Once I asked a soldier why he does that, even though he knows perfectly well who I am. The soldier replied, 'Just as your job is to be the headmaster, my job is to check you.'" The army disposes the closure of the school for Jewish festivities, preventing the schools' activities. He also tells us that yesterday some soldiers attacked some students putting them in arrest. Attacks happened this morning too, but they didn't affect kids from his school.
We thought we were done finding out what happened. The fact had been verified. But he kept going. "By the way, the kids in the video you have seen are not the ones I'm talking about. They're not from my school. They are from another school I think the UNRWA school or Al-Khalil school."
So, we hadn't finished yet. The two kids, that we could see in the video held by two big guys, twice their size and holding weapons, were not the ones we had just heard the story about. So still we had another place to go to.
After a five-minute walk, we passed through the Salaymeh checkpoint. Another than the Qeitun checkpoint just mentioned by the headmaster. We're out in the H1 area on Tareq Ibn Zeyad Street and after a few meters we reached Al-Khalil school.  The office of the Principal was very crowded. We're welcome, they say. So, we stared once more, "We know that a student from this school have been arrested yesterday morning. Could you tell us more?" We understand that our interlocutor will be an English teacher. He tells us about the surprise attack. While he speaks, I can picture the scene in my mind.
A bunch of young guys in their twenties, armed with a plethora of dangerous and expensive weapons, stationed behind a wall, waiting for some kids to pass in order to trap them. The scene seems to be very funny. The dumb antagonist clumsily trying ambush the smart little protagonist like a scene in a children's book. It could make you smile – unless you think of what has just happened. Today is one of several episodes of harassment, a continuous form of violence and pressure over the new generations in Palestine. It tries to mould their spirits with the idea that they are inferior people whose rights and dignity won't be guaranteed, creating a rage no kid should know.
The teachers mention all the videos they can show in order to prove all the abuse the kids and they themselves frequently undergo. Videos upon videos, images upon images. It's not the first time I heard it. And each time the tension rises, smartphones and video cameras rise out of the crowd and everywhere you can see arms lifted, holding them like magic wands. In Palestine, like everywhere people are oppressed, filming is a way to prove that what you claim is true and that the self-indulgent alibis and counter-versions of the oppressor are lies. One of the teachers we met during the morning said that one day he'll make a film with all the material collected through the years.
What they have just told in this office is not that different from the story we heard in the previous school. We know about some more kids arrested, but still the initial question remains unsolved: where are the kids of the video? They tell us that they might be from another school: UNWRA school or Khadija school.
So, we say goodbye and go out to keep on with our research.
We took right through a little alley. Behind a blue and rusty gate, we found Al-Khalil School. The Headmaster was very polite and welcoming (I start thinking it must be a quite common quality here in Palestine). He invites us to sit on the sofa, so we sit and start again. "We know that a student from this school has been arrested yesterday morning. Could you tell us more?"
We soon find ourselves in a classroom. The English lesson stops for a second, just the time to call two kids to come out with us. We've already been informed by the headmaster about the dynamics of the arrest. Some soldiers suddenly entered the school gate and arrested one kid. Then they detained him and they assaulted him. They only released him after three hours and the father had to sign some papers.  The headmaster doesn't really know what they were about. One of the kids is the one arrested, the other the one who managed to escape from the soldier. We joke a little bit with them. They smile. We wonder if he was scared or not during the detention. It doesn't seem like it. They giggle like the game was fun. Actually, the headmaster revealed to me that he was actually really scared.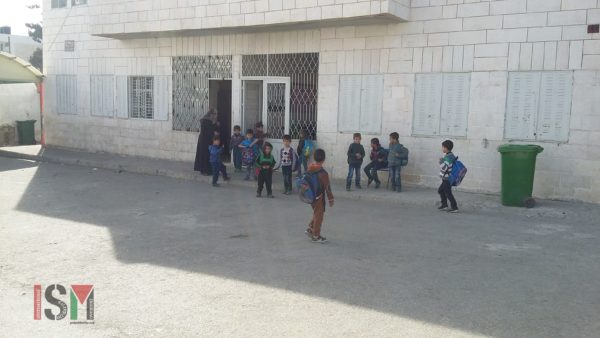 Before we leave the headmaster leads us behind the building. He wants to show us something. There is a little space of a few square meters with dust and stones. "I'd like to find the money to make a garden here". That's our goodbye. While we step out of the gate where the soldiers had entered to catch the kid, we take some pictures of the area. As soon as the students leaving the school notice us, they start gathering around us and posing. They keep on laughing and asking us to take pictures.
We walk toward the UNRWA school. We have just found out about another kid arrested but we still haven't met anybody who could provide us any information about the video that Facebook generically showed that morning on our wall. Eventually, in front of the UNRWA school, we will find what we want. A person working nearby (who asks us not to mention his name or any possible hints to identify him) will tell us that yesterday two kids from that school have been arrested and detained from the soldiers. This time nothing had happened in front of the school but at the checkpoint. Nevertheless, like the other kids, the pattern was the same: soldiers accusing 10-12 year old kids to throw a stone and arresting them. No matter what really happened in this specific situation, this is neither the first nor the last time that something like this will occur.
So here we are. We left our apartment today looking for two kids and we found almost ten stories. But what was most impressive?  We came across the chronicles of a population of young Palestinians who tried to go to school each morning and had to go through a war scenario. What for the most of the kids all around the world is a natural and simple step of the day, is a struggle here.
We discuss it while we pass through the checkpoint back to H2 and head to Prayer Road. We yet haven't finished with visiting schools today. We are going to Mutanabi school for the school run. We will stand in front of the gate while the students go out to check no abuses or assaults by soldiers or settlers take place. During the last days, we were considering to stop monitoring here, as recently nothing bad has happened. Unfortunately, some days ago, some soldiers decided that the morning could not start peacefully. So, they blocked the road and forbid the headmaster and his assistant to enter it. Once more a kid (an unidentified and unnamed kid) was accused of stone-throwing. While the headmaster was talking with them, another two teachers reached the place. The soldier accused him of interfering with their work and put them under arrest. One of them has been detained in the police station for two hours. There, the police put a razor in his pocket and threatened him that they would say that he tried to attack them. That next time they will shoot him.