22nd September 2017 | International Solidarity Movement, Nablus team | Kafr Qaddum, occupied Palestine
During today's march in Kafr Qaddum, three protesters were injured by rubber coated steel bullets fired by the Israeli armed forces. When it looked as if the soldiers had retreated, they surprised the demonstrators by re-entering the village and fired several rounds of live ammunition.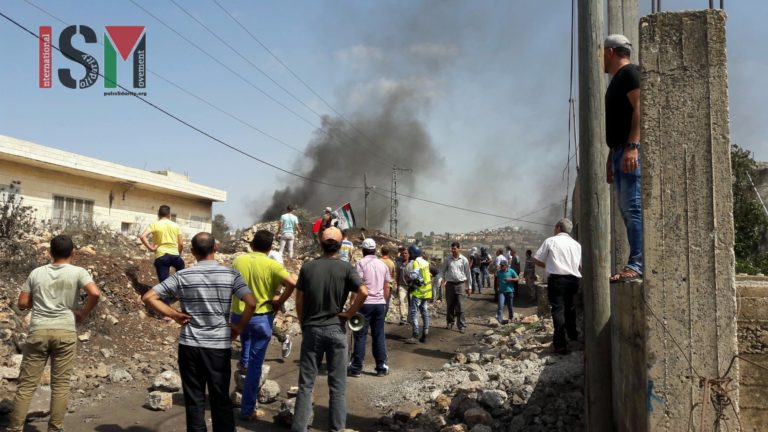 Shortly after the march had started, the Israeli military entered the village and fired sound bombs, rubber coated steal bullets and tear gas at protesters. A 22-year old got shot by a rubber coated steel bullet in his shoulder and a 20-year old and a 46-year old man got shot in their hands. All could be treated at the scene.
It was some time ago that the military used live ammunition in Kafr Qaddum. One of the demonstrators told ISM that it reminded him of the dramatic incidents between 2014 and 2016 where many people were shot with live ammunition. Six of these people were children under the age of 11 and six people got shot in the upper parts of their body. Some of them are still suffering from their injuries. Four people got killed. During this period there were also 170 protesters arrested and kept in military detention from 3 months to 24 months.
Since 2011, the villagers of Kafr Qaddum have had weekly marches towards their main road which have been closed since 2003. The road is closed off due to the location of the illegal settlement of Kadumim, and have severe effects on the daily commutes for the villagers of Kafr Qaddum.
A video of the protest can be found here: