13th November 2015 | International Solidarity Movement, Nablus team | Nablus, occupied Palestine
Update: 15th November 2015 | International Solidarity Movement, Nablus Team | Nablus, occupied Palestine

Four human rights defenders arrested in Bil'in on 13th November when peacefully observing a demonstration against the apartheid wall have been let out on bail. All were held at the police station for approximate 10 hours, interrogated, photographed and fingerprinted. Embassies of the activists contacted the police station, providing assistance to detainees. Police was first reluctant to define reasons for the arrests. Main reason presented later was an accusation of the activists being on a "closed military zone", despite the lack of signs signifying the area as one. In case of some of the detainees the police kept changing the reason presented for the arrest. Police has so far provided no evidence for the accusations.
As the video evidence clearly portraits, the Italian activist Antonio Fresta was repeatedly denied medical assistance by the ambulance personnel during the arrest. The police officers refusing the medics to approach or place Fresta on a stretcher were identified by their first names, Nikolai and Ruslan. Both were in border police uniform and appearing to be of higher rank. Fresta had the sim card of his phone confiscated and later returned by the police. Fresta's credit card also disappeared from his personal belongins after they were taken by the police.
****************
Four human rights defenders have been arrested this afternoon at a demonstration against the apartheid wall in Bil'in.  Approximately sixty villagers and supporters spread out throughout the valley and the human rights defenders were peacefully monitoring the situation when they were attacked.
Palestinian activist Mohammed Khatib, American Jewish Code Pink activist, a Finnish activist and Italian activist, Antonio Fresta, were arrested. Antonio was assaulted and repeatedly pepper-sprayed from close range in the face.  They are presently still detained.
At approximately 1pm two women, an American and a Scandinavian, were walking along the road near to the wall with 3 other people when Israeli Forces advanced and detained both of them. When Mohammad al-Khatib approached the Israeli forces to question why the women were being detained, he was also detained and arrested. The soldiers then shot several rounds of teargas across the valley, and ran after a Chilean and Italian filming nearby.
According to Australian ISM volunteer Phoebe, who was also present at the scene, "there were just a few men throwing stones at the wall, far away from two jeeps, and far away from those they arrested, and then they seemed to come directly for our friends and arrest the first Palestinian who came near them.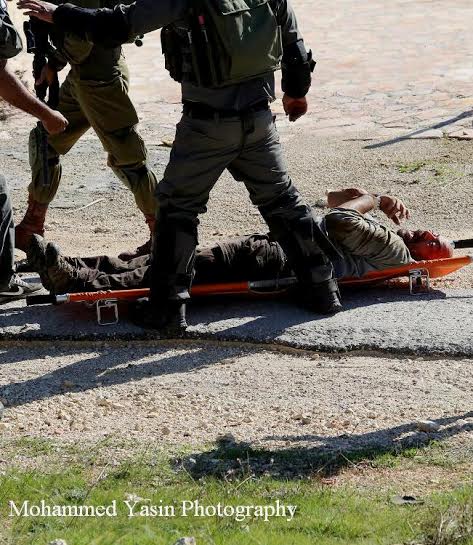 "While moving away from the rain of teargas, the Italian was chased, beaten and pepper-sprayed repeatedly, before being arrested and dragged into a jeep by Israeli forces. Despite the fact that he did not resist arrest nor break any perceivable law in his actions, he was denied medical assistance from the nearby ambulance and has been taken directly into custody.  The Chilean activist stated "We were running because they were shooting and I think Antonio fell. They sprayed him right in the eyes again and again. I told them we are not doing anything wrong, but then they kept going."