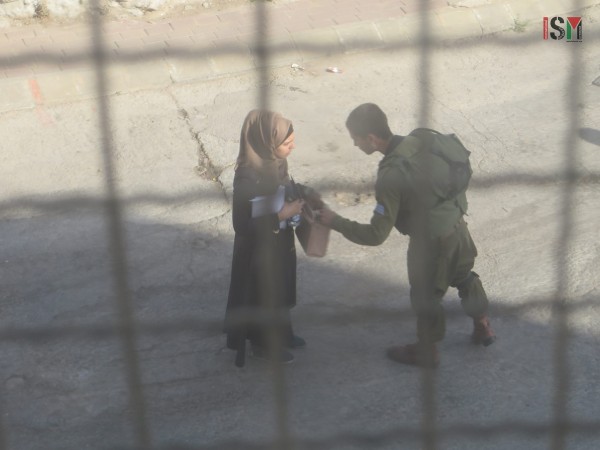 22nd October 2015 | International Solidarity Movement, Al-Khalil team | Hebron, occupied Palestine
Today in the morning, Israeli forces harassed international human rights observers monitoring a checkpoint in occupied al-Khalil (Hebron) on settlers orders.
Two internationals were monitoring the stairs leading up to two schools from segregated Shuhada street. Palestinians are forced to take the stairs as the small stretch of Shuhada Street where they are allowed to walk, before Shuhada Street – once the major Palestinian market – continues on as a ghost stretch, completely emptied off any Palestinians, who are not allowed to even walk there. Checkpoint 55, which marks the line from where Palestinian freedom of movement is completely denied is often the scene of ID-checks, body-searches, detentions and arrests of Palestinians.
During the last few weeks, this has also been the choice venue for large groups of settlers from the illegal settlement of Beit Hadassah and many of the other illegal al-Khalil settlements for staging protests, such as executing a Palestinian and celebrating his death with trays of sweets. The Palestinian residents in this neighbourhood are constantly harassed by the soldiers and settlers, who in turn enjoy the unconditional protection of the Israeli forces – even to the extent that a knife can be planted on a dead Palestinian by Israeli police, as seen in this video filmed by the activist group Youth Against Settlement.
With the recent escalation of soldiers' and settlers' violence against Palestinians and the extrajudicial executions of Palestinians, not only in al-Khalil, but beyond that throughout the occupied West Bank and Gaza, teachers and parents are worried about school-children's safety on the way to school. International human rights observers are monitoring most of the innumerable checkpoints children are forced to pass through on their way to school.
On Thursday morning, two internationals were standing at checkpoint 55, monitoring Palestinian school-children on their way up the stairs to Qurtuba school when a settler from the Beit Hadassah settlement spotted the internationals, immediately walked up to the soldiers seeming upset, pointing towards the internationals and down the road. Just a few seconds later, soldiers came up to the human rights observers asking for their passports and visas and ordering them to move further away down the road, out of sight of the staircase leading to the school. When questioned about reasons for this, soldiers admitted that 'someone' did not feel safe and wanted them to leave the area. A few minutes later, more soldiers arrived at the checkpoints and requested the two internationals to be body-searched. The female human rights observer refused as there were no female soldiers, but the male  was human rights observer was forced to lift up his shirt and trousers and have a soldier body-search him. The reason soldiers gave to internationals was 'security', though soldiers almost never bother to check the internationals' bags. This comes just as illegal settlers in al-Khalil put up posters asking for soldiers and settlers to 'take action' against these 'hostile anarchists trying to harm Israelis for anti-semitic reasons', openly inciting violence toward these third party observers.
This kind of harassment, for Palestinians, is a daily occurrence, completely leaving their lives at the soldiers' every whim.