19th January 2015 | International Solidarity Movement, Khalil team | Hebron, Occupied Palestine
This afternoon in occupied al-Khalil (Hebron), Israeli forces gathered on Shuhada street, surrounding the doorways to the two houses belonging to Aamal Hashem Dundes, an elderly Palestinian woman, and her family. A soldier, wielding a torch and various other equipment, welded shut the doors. Soldiers and police kept international and Palestinian observers away as the houses were sealed up.
Soldiers claimed that Molotov cocktails had been thrown from the roof of one of the houses into the Israeli Zionist settlement. No one, however, could explain why this led soldiers to punish Aamal and her family, who had done nothing wrong, by welding shut their doors. "Isn't that collective punishment?" asked one member of Christian Peacemaker Teams present at the scene along with ISM.  Israeli forces could give no satisfactory answer.
Aamal's family were not living in the houses at the time the soldiers came to seal up the doors – they rent an apartment across the street – but she and her daughter explained to international volunteers that the family had owned the houses for hundreds of years. Aamal sat near where the soldiers were working, sometimes weeping, sometimes speaking with journalists and local activists.
As the incident progressed Israeli soldiers and police forced Palestinian and international observers back away from where the soldiers were sealing up the doors, and from where Aamal sat with her daughter arguing ineffectually with the soldiers and police. By contrast, Israeli settlers who had come up Shuhada street from the nearby settlement to observe were allowed to stay near and continue filming even as the rest of the people present were shoved first onto the sidewalk across from the houses, then to either side of the street, where they could no longer clearly see what was happening. Settlers joked and laughed with the soldiers, seeming quite pleased with the situation.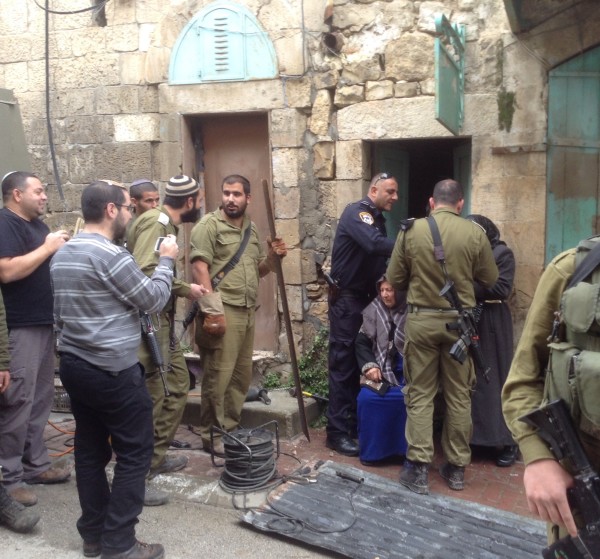 Soldiers aggressively shoved journalists, international solidarity activists, and local Palestinian activists who were attempting document the behavior and actions of the Israeli forces. When international activists attempted to ask why they were being kept back from the scene, soldiers typically responded: "because I say so."
By the time Israeli forces had finished welding her doors shut, Aamal, who suffers from high blood pressure and diabetes, was understandably overwhelmed. Not only had she witnessed the houses her family had owned for generations sealed up by gun-toting Israeli soldiers, she had also been pushed by soldiers when she tried to protest. She had to be taken to an ambulance, which drove her away to the hospital. As she was moving towards the ambulance she asked, as she had multiple times previously, for an international to accompany her. Then, as before, Israeli forces let no one through.
Aamal and her family live on the short portion of Shuhada street where Palestinians are still allowed to walk. Most of the street has been entirely closed off to Palestinians, as part of Israel's campaign of repression against those living in and around the area which once served as a thriving hub of Palestinian life in al-Khalil. Shuhada street, where once markets and shops flourished, is now a ghost town. Many Palestinians have already left the area; those who remain must bar their doors and windows against violence from local settlers.  The sealed off doors are just one more demonstration of the Israeli military's repression of those Palestinians who dare to continue to live on al-Khalil's apartheid streets.